Here's what you need to know about this new plush friend.
Earlier this year, Build-A-Bear Workshop expanded its Pokemon plush collection with the release of Flareon, the Fire-type evolution of Eevee. Now, another Eevee evolution has received the plush treatment: Jolteon!
Jolteon is available to purchase on Build-A-Bear's website in an "Online Exclusive Jolteon Bundle" that costs $64.00. (Currently, the plush is only available online, as Build-A-Bear's stores remain closed due to the ongoing COVID-19 pandemic.)
The bundle includes the 12-inch Jolteon stuffed animal, a Jolteon Poke Ball Sleeper (pajamas), a Jolteon Electric-Type Cape, and a 5-in-1 Jolteon sound module, which will be placed inside of the stuffed animal so that it can make sounds.
With the release of Jolteon, we've now seen three different Pokemon from the Eevee family released as plushies at Build-A-Bear (Eevee, Flareon, and Jolteon). The only one missing from the first Generation of the Pokemon universe (the first 151 Pokemon) is Vaporeon, but don't worry! It's coming soon.
On the product page for Jolteon, a "2020 Sneak Peek" image says plushie Vaporeon will be released in "late summer 2020." We'll make sure to let you know when it's available!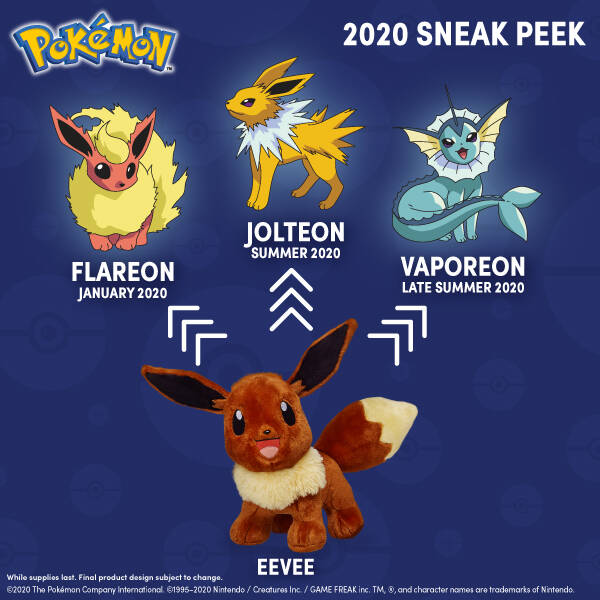 In the meantime, head over to Build-A-Bear's website to check out Jolteon and all of the other Pokemon plushies that are currently available (Eevee, Pikachu, Meowth, and more).
Will you pick up this Jolteon plushie from Build-A-Bear Workshop? Which Pokemon would you like to see Build-A-Bear release next? Let us know in the comments, or tweet us at @superparenthq.