Some of the best robots, action figures, and video games from New York City's annual toy extravaganza.
Toy Fair gives the media a chance to check out the latest action figures, weird substances, tabletop games, and building blocks coming out this year and beyond. Consumers can't buy tickets to see all of these gadgets, because it's only for folks who work in the toy industry or people who write about them. So, since you and your kiddos wouldn't be able to, we spent hours wandering the show floor to dissect aliens, command robots, and stick our hands in many different types of goop — all to see the hottest toys due to arrive in 2019.
Lego Hidden Side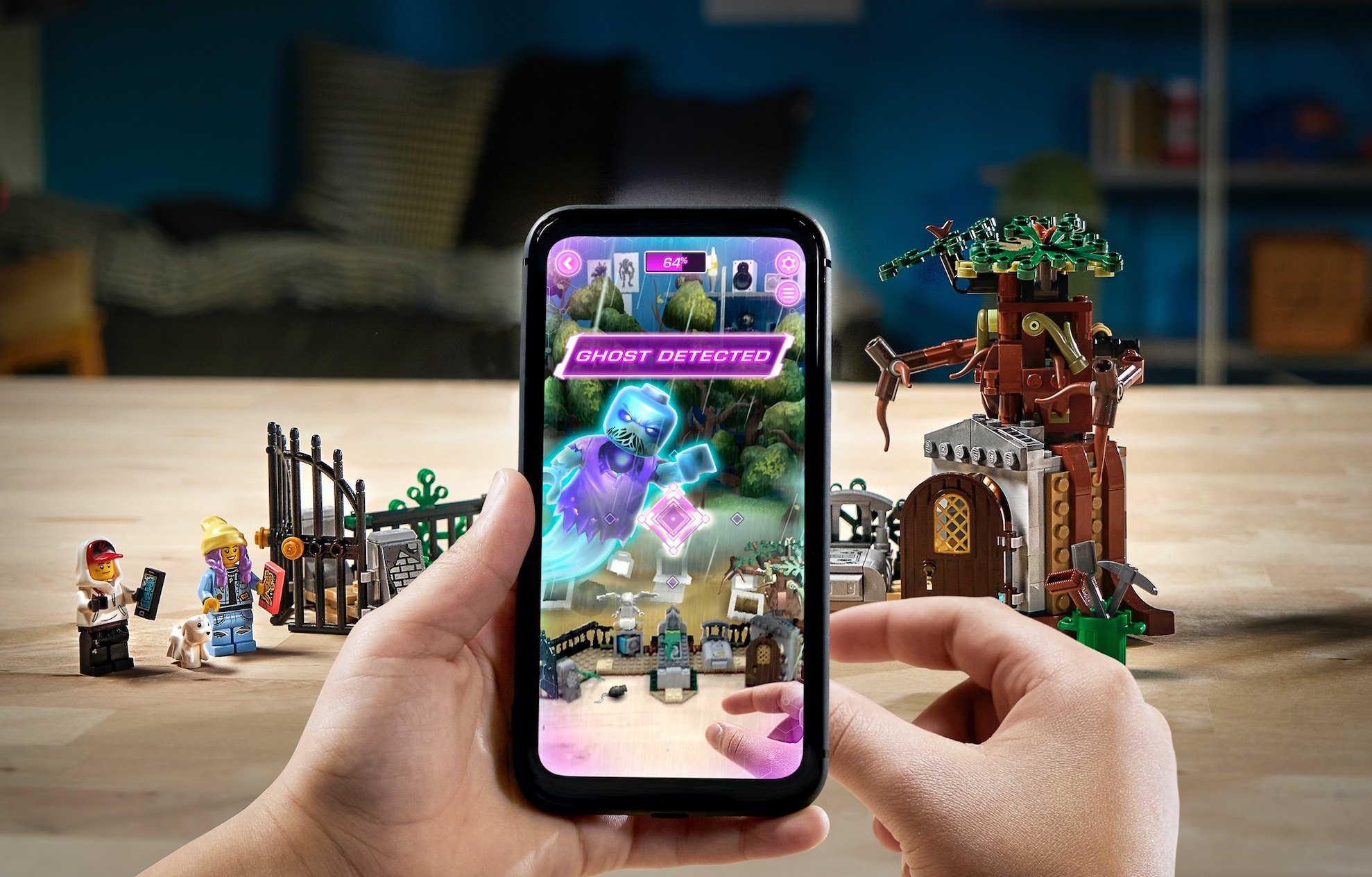 Lego kicked off Toy Fair 2019 with the announcement of its exciting new series, Lego Hidden Side. Comprised of eight building sets (ranging from $19.99 to $129.99), Hidden Side lets toy fans assemble a variety of vehicles and locations set within a haunted town called Newbury. What makes Hidden Side unique in the brick building world is Augmented Reality. After downloading the app and viewing these building sets through the smartphone's front-facing camera, fans will see ghosts, uncover secrets, and take part in games, all in the hopes of ridding Newbury of those pesky spirits. With a variety of building sets (which include the Lab, Graveyard, and Newbury High School) and the promise of downloadable content to the app, we expect Lego Hidden Side to be a breakout hit when it arrives this summer, just in time for Halloween.
Coding Critters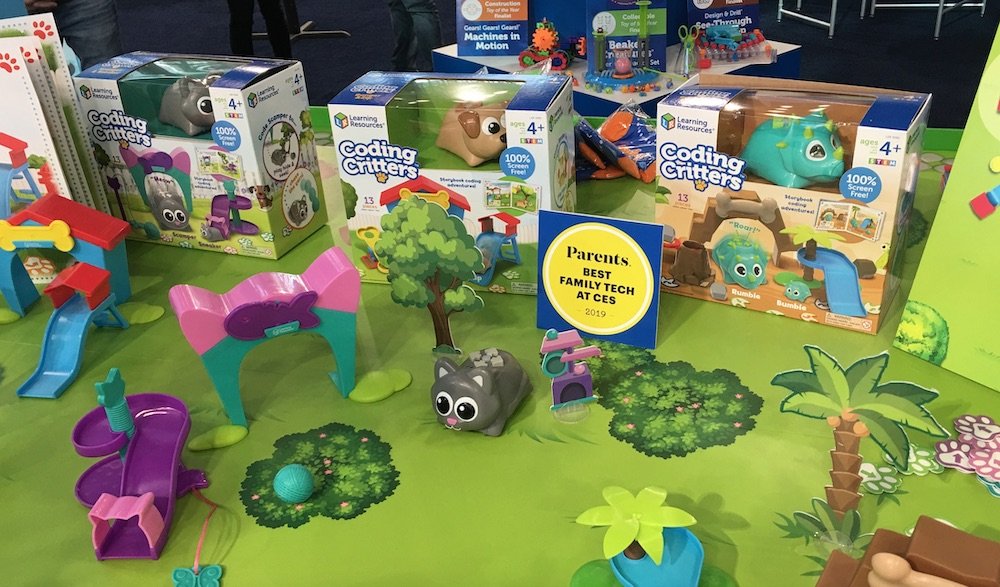 Many companies make STEM toys for kids over five-years-old. Learning Resources wants pre-readers (usually children under five) to learn how to code. Enter Coding Critters, an adorable lineup of pets (including a dinosaur) that let parents teach their children early coding concepts. By following the included coding storybook, families can teach the Critters how to fetch, play hide and seek, dance, and do other fun activities.
Coding Critters will be available summer 2019.
Artie 3000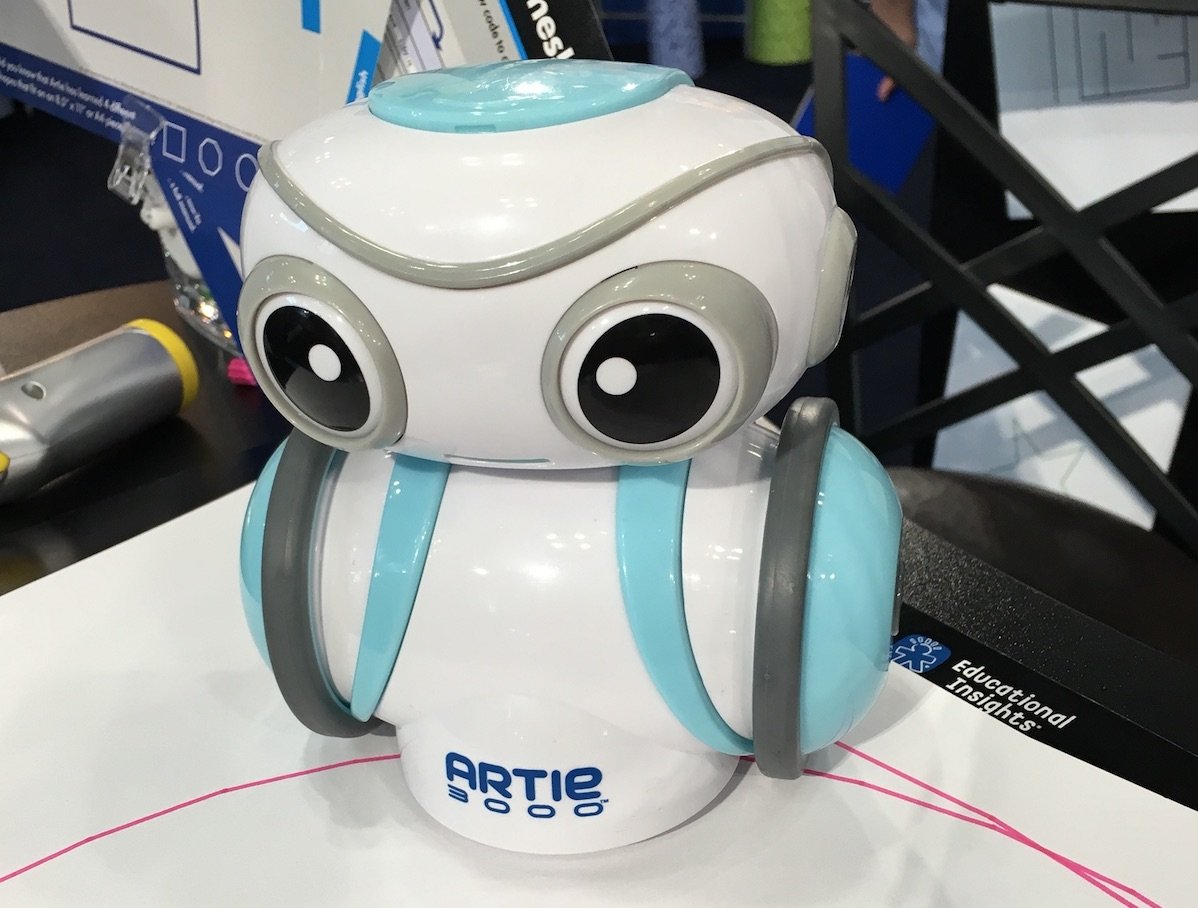 If your kiddo is ready for a more advanced coding experience, check out Artie 3000. This remote-controlled robot will teach children to code line by line, thanks to a variety of commands and games. Plus, after inserting one of the four felt-tipped pens included with every Artie 3000, you're able to issue commands that tell it to draw a variety of shapes.
Artie 3000 is a lifetime member of Mensa. Bring Artie home in March.
Wall-Cades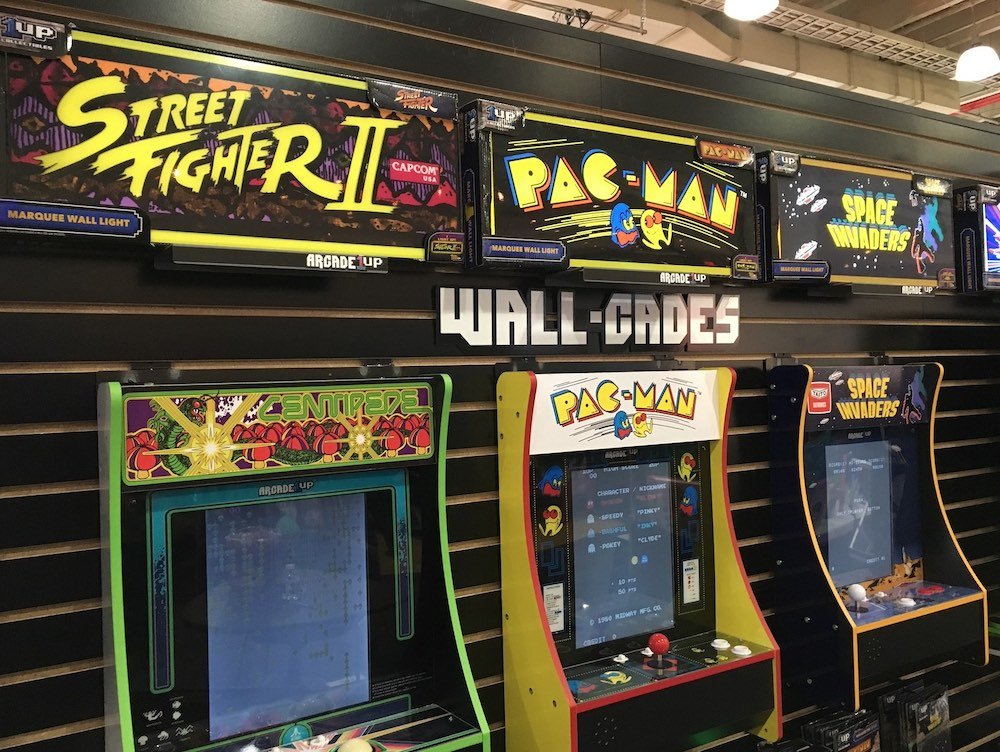 No room to put a life-sized arcade machine in your home? No problem! Deck the wall with Arcade1Up's stylish Wall-Cades, the world's first arcade games that attach to walls. One part classic arcade game, one part work of art! Check out the initial wave (Pac-Man, Centipede, and Space Invaders) later this year. Arcade1Up will also bring a specially-themed Mortal Kombat machine to market, which includes MK1, MK2, and Ultimate MK3, but those games are only appropriate for adults.
GraviTrax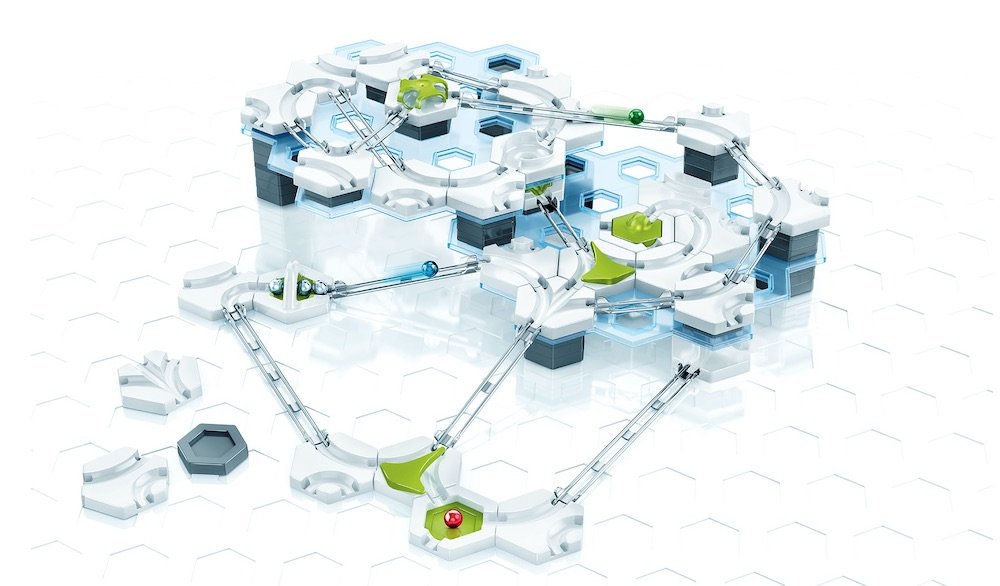 Well-known toy and tabletop company Ravensburger wants to inspire STEM enthusiasts with its building system, GraviTrax. Kids can follow the included directions or come up with their own track designs. They can then use marbles to experiment with gravity, magnetism, and kinetics. Follow the instructions precisely, and you'll be able to get the marbles to jump the track and even cause chain reactions. And since everything easily fits together, buy enough sets and you'll be able to create some seriously complex designs. GraviTrax is available now, with new expansions being released later this year.
Tetris Micro Arcade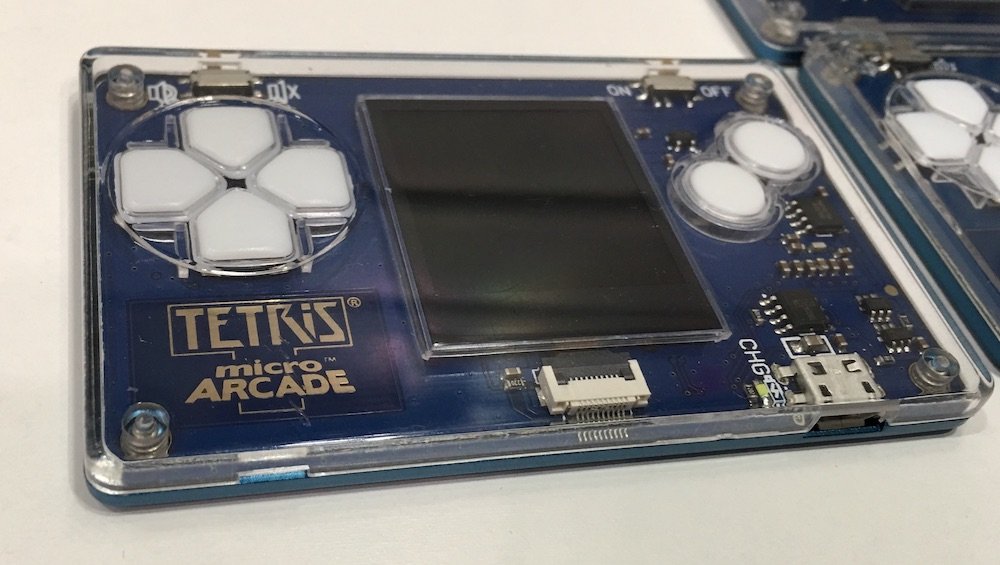 As much as we love Tetris99 on the Nintendo Switch, the Tetris Micro Arcade device might be the coolest and slickest way to enjoy the iconic block-falling puzzle game. This thing is roughly the side of a credit card, making it ultra-portable and perfect for getting your quick Tetris fix. The Tetris Micro Arcade will hit store shelves real soon, and there will also be versions for Pac-Man and Centipede.
Talking Detective Pikachu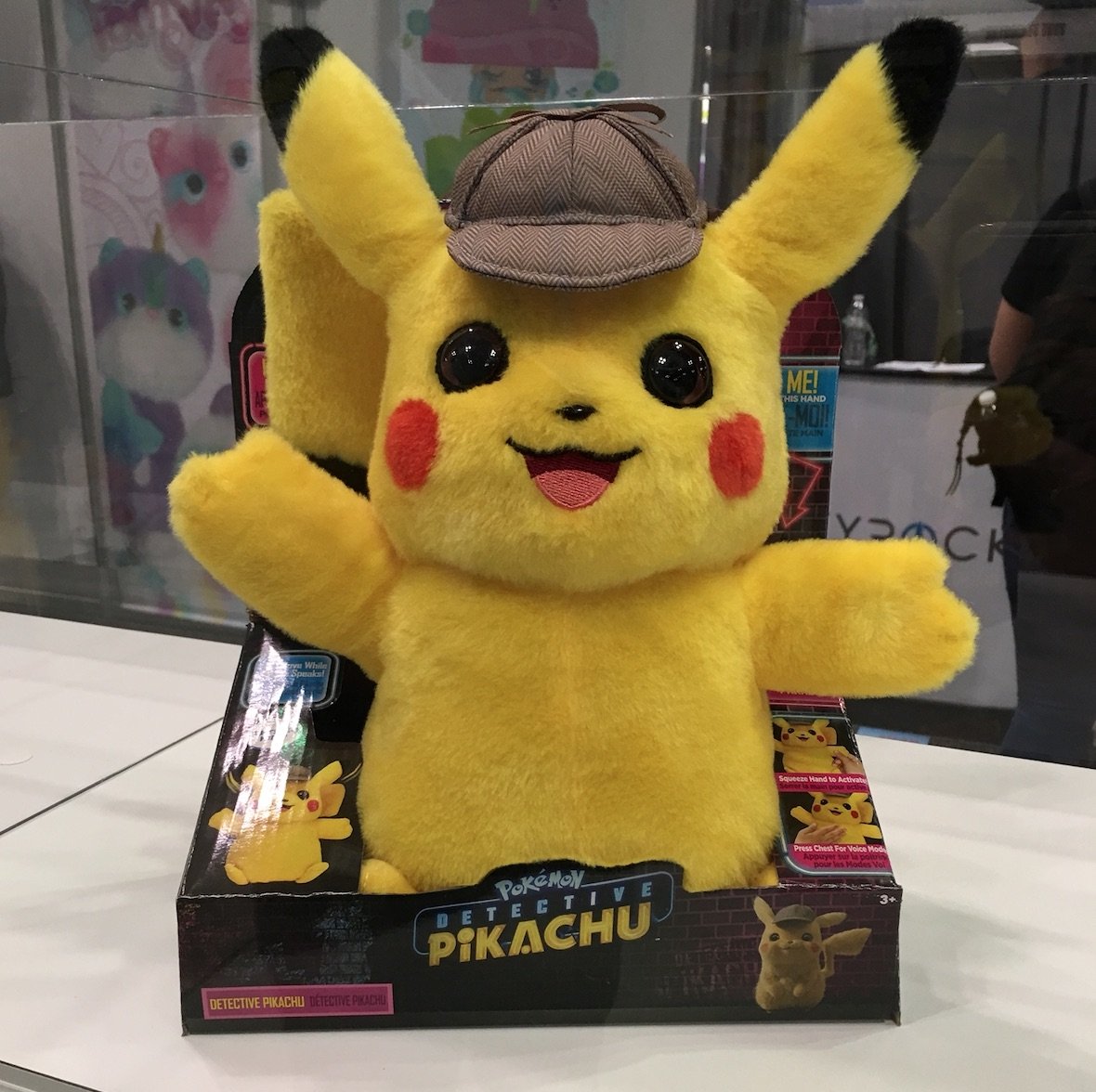 The Pokémon Company will release this squishable talking Detective Pikachu (complete with Ryan Reynolds' voice) just in time for the movie that launches on May 10.
Hi-Hat Café Gear from Detective Pikachu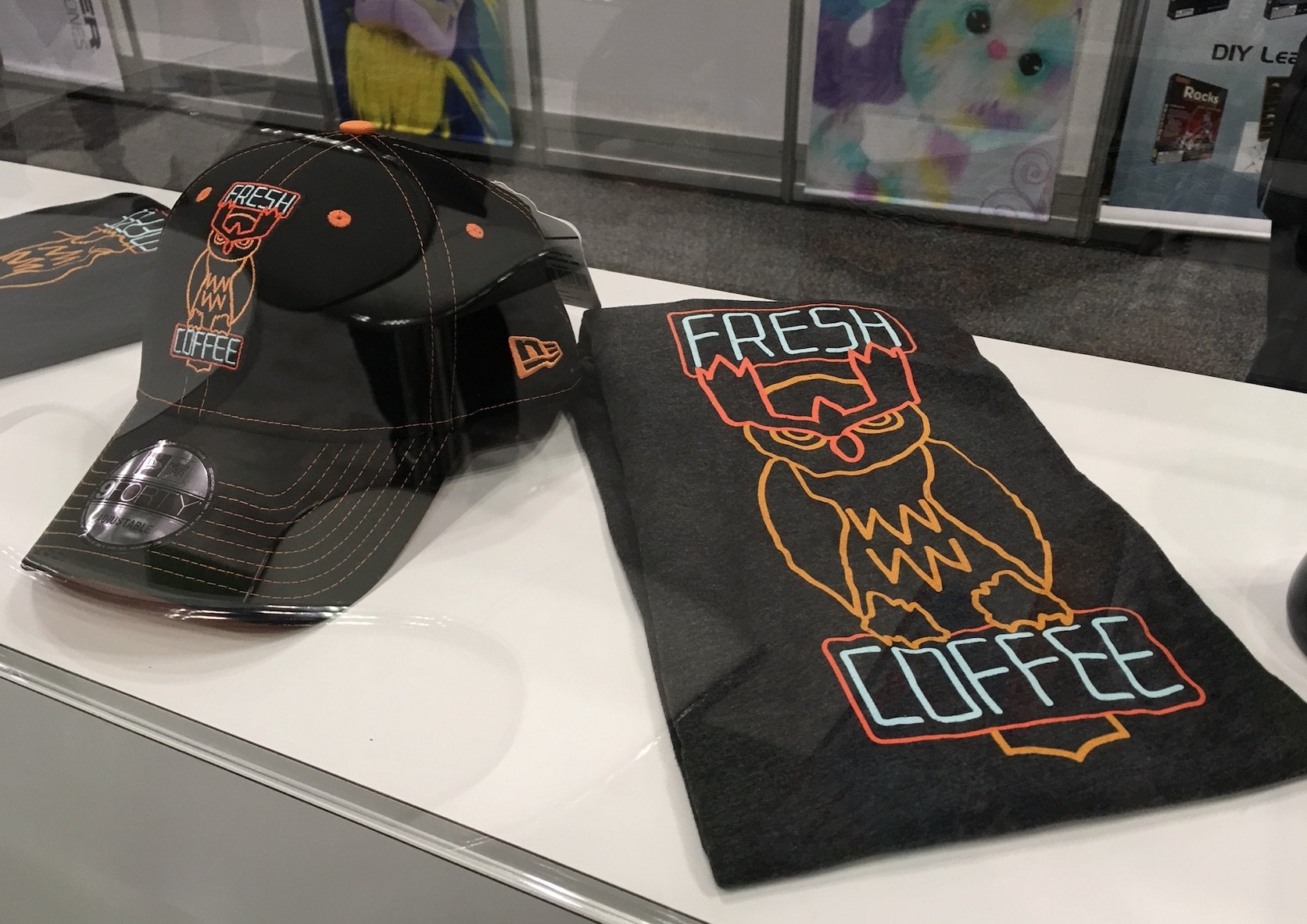 We instantly fell in love with this hat and t-shirt featuring the Hi-Hat Café from the Detective Pikachu movie. The shirt in particular looks super soft, and perfect to wear to go see the film.
Paw-Play Robotic Cat Toys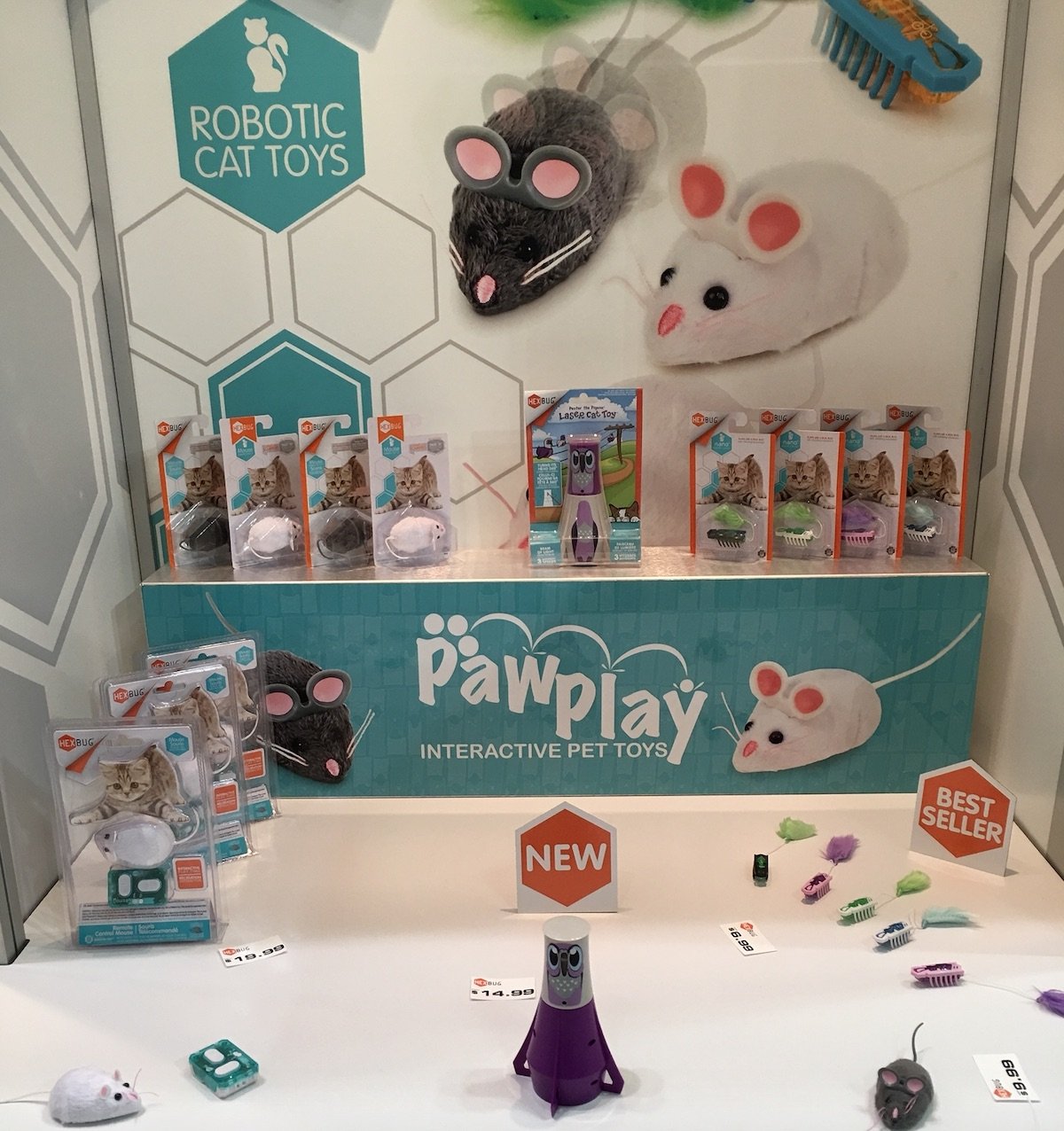 Hexbug is known for its lineup of nanobot powered toys and robots geared towards kids and teens. Now the company has a new customer… cats! Hex took its pintsized tech and conjured up robots that blast laser beams all over the floor, which is sure to entertain cats and their owners for hours.
PolyM Adventure Rocket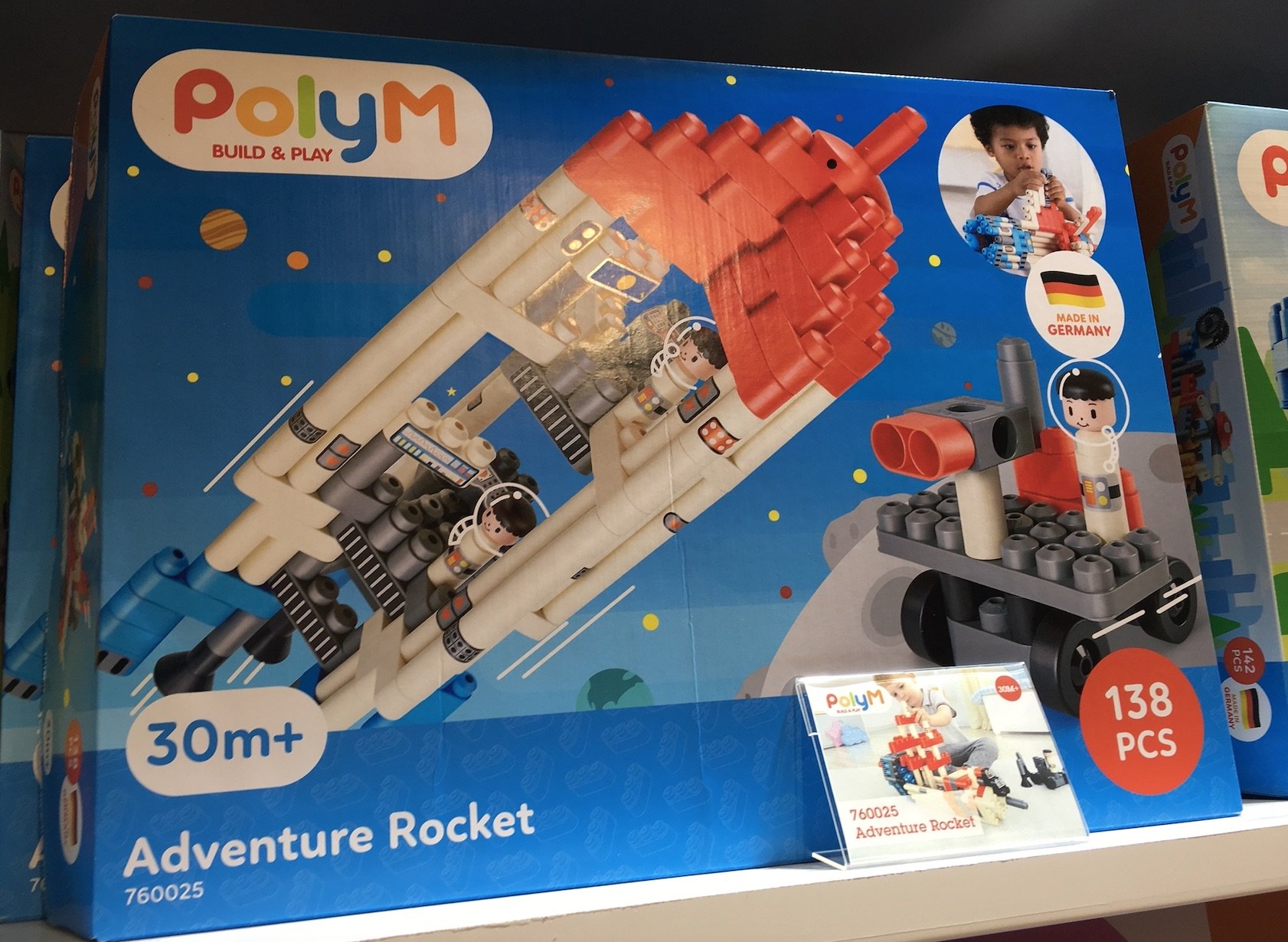 We were drawn to Hape's PolyM block sets because the pieces are much larger than standard building blocks, and they're even bendable! Because of this, we'd like to think that stepping on one of these in the middle of the night won't damage our precious feet nearly as much as the competition.
Slo-Flo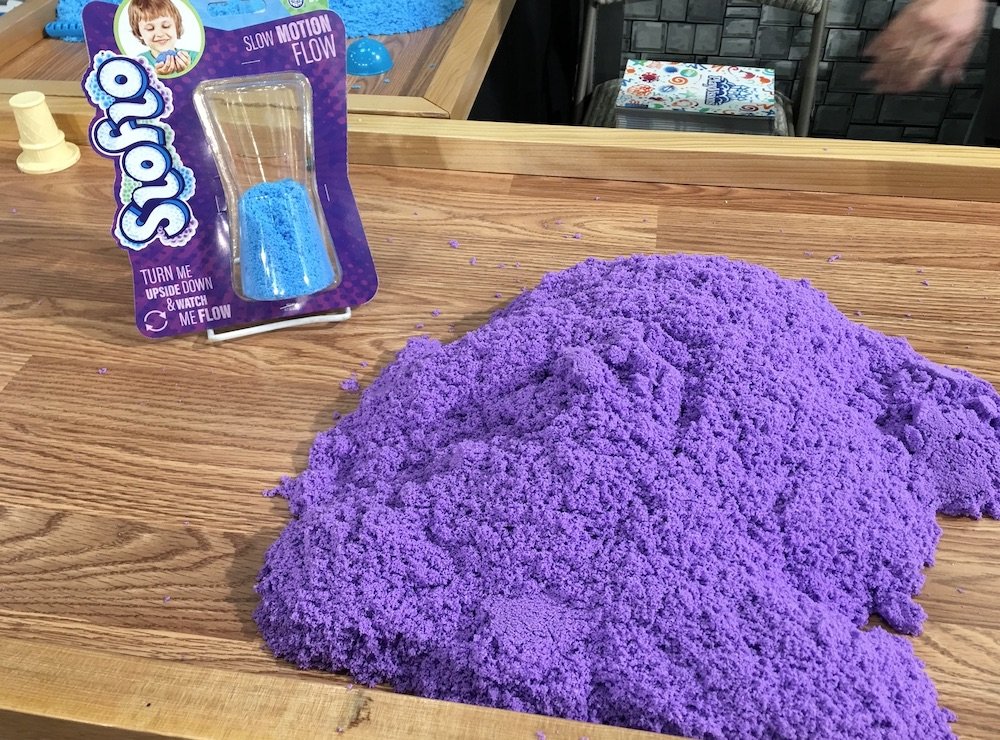 Several companies at Toy Fair attempted to outdo one another with their own signature compounds. Playvisions was the winner with its mesmerizing gunk, Slo-Flo. It's sort of like Kinetic Sand, but much fluffier, and Slo-Flo's biggest appeal is that no matter what you do with this stuff, it will slowly flow apart and expand across whatever surface you place it on. Considering the lengthy list of slimes and malleable substances on shelves these days, creating something unique is tough to do, making Slo-Flo an easy pick for best… um… substance of 2019.
My Arcade Pocket Player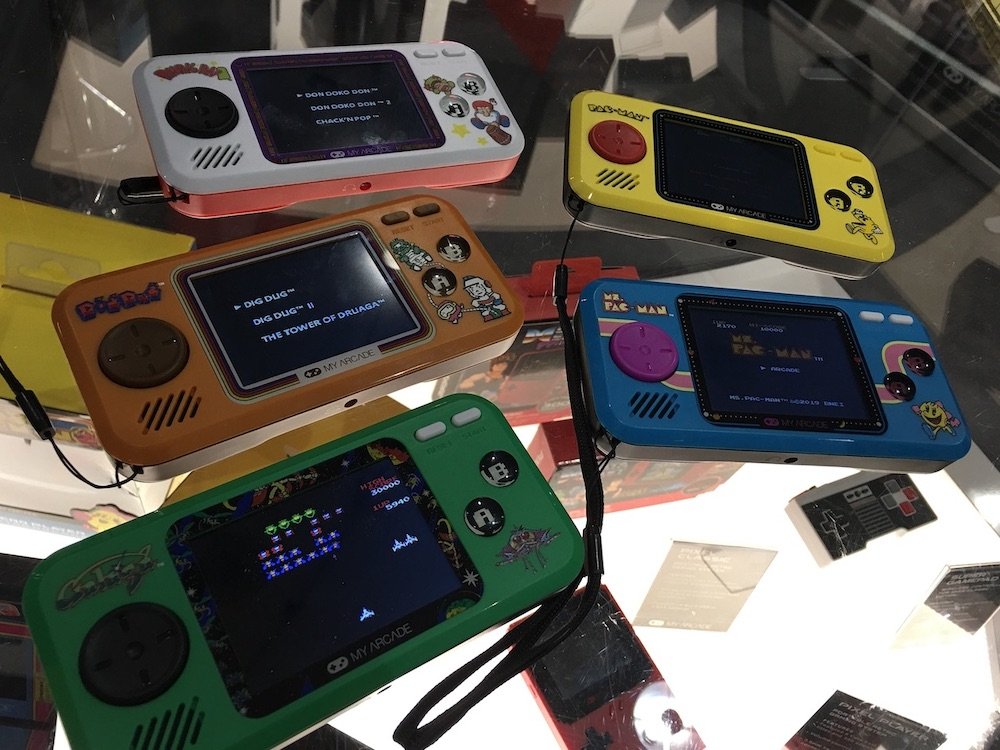 My Arcade is known for creating small versions of classic arcade machines, but those plastic cabinets are still a bit large to take with you. Enter the Pocket Player lineup! These handhelds have a more ergonomic design that easily lets you toss them into your bag or pocket! Now you can break out Ms. Pac-Man, Dig Dug, and Galaga wherever, whenever.
Arckit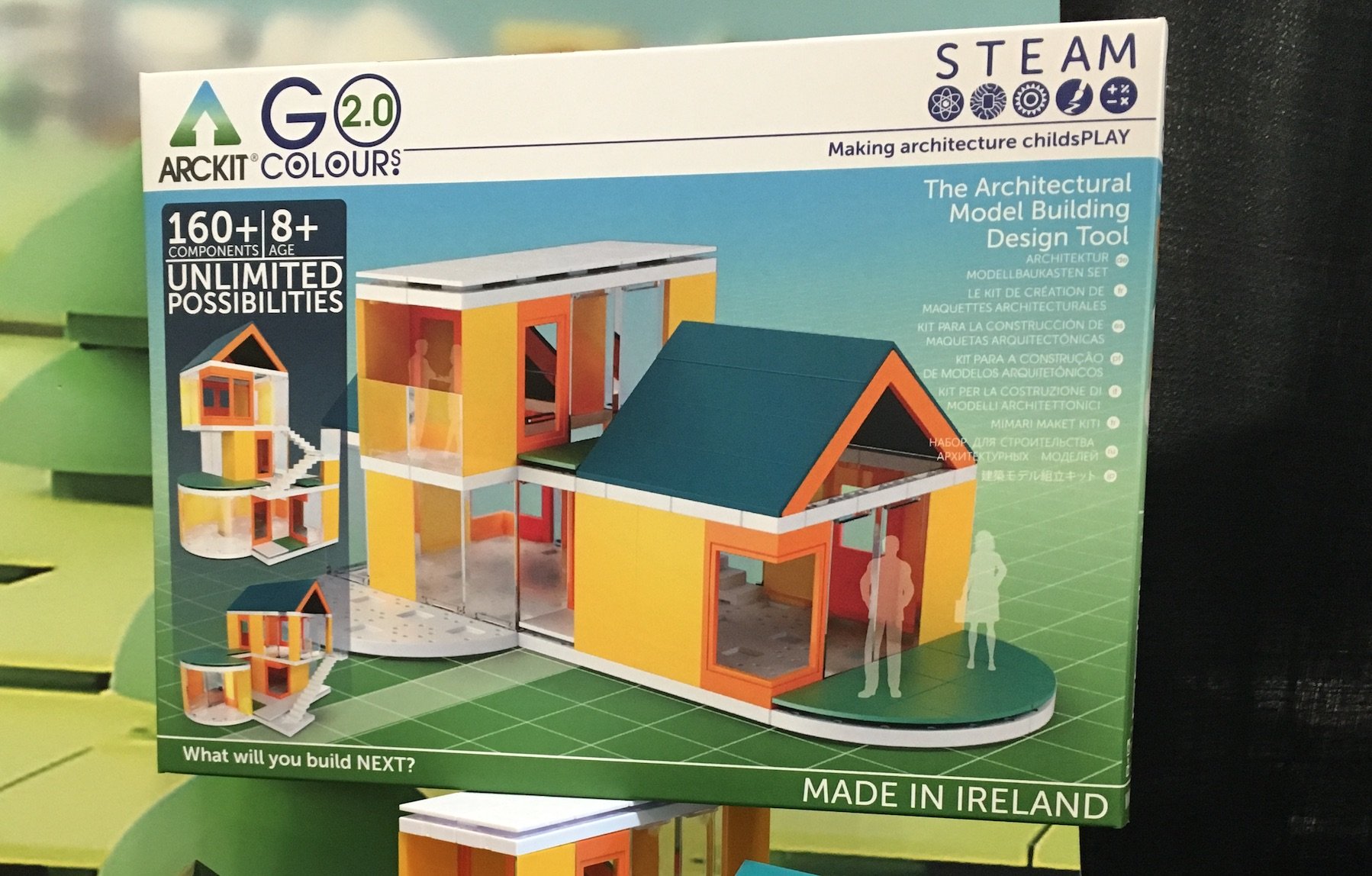 If you think Lego is for kids, or you merely want to see what else is out there, we highly recommend Arckit. Designed by real architect Damien Murtagh, these attention grabbing and stylish playsets intro kids and adults to architectural design. Build each set as instructed, or create something original. Either way, these sets are wonderful conversation starters, and look great displayed on shelves and desks.
Fortnite Battle Royale Collection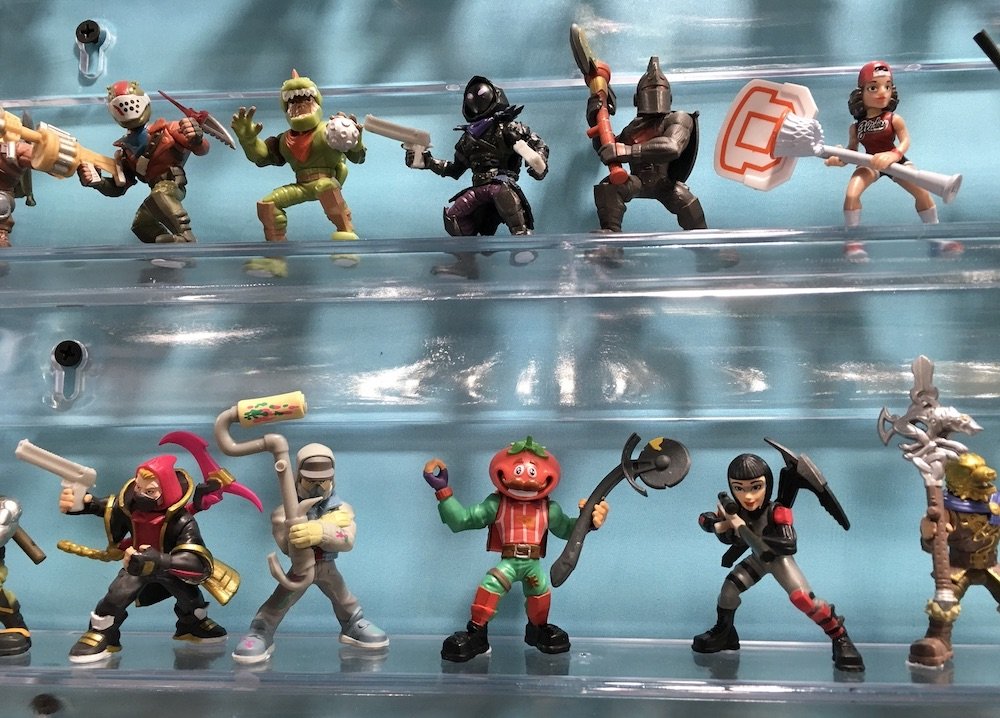 Epic Games' Fortnite is arguably the king of battle royale games (though EA's Apex Legends is fighting for the title), and fans will love Moose Toys' collection of mini figures. The fact that the company plans to roll out 100 of these little guys means that hardcore gamers will need some literal deep pockets to carry them all.
Treasure X Aliens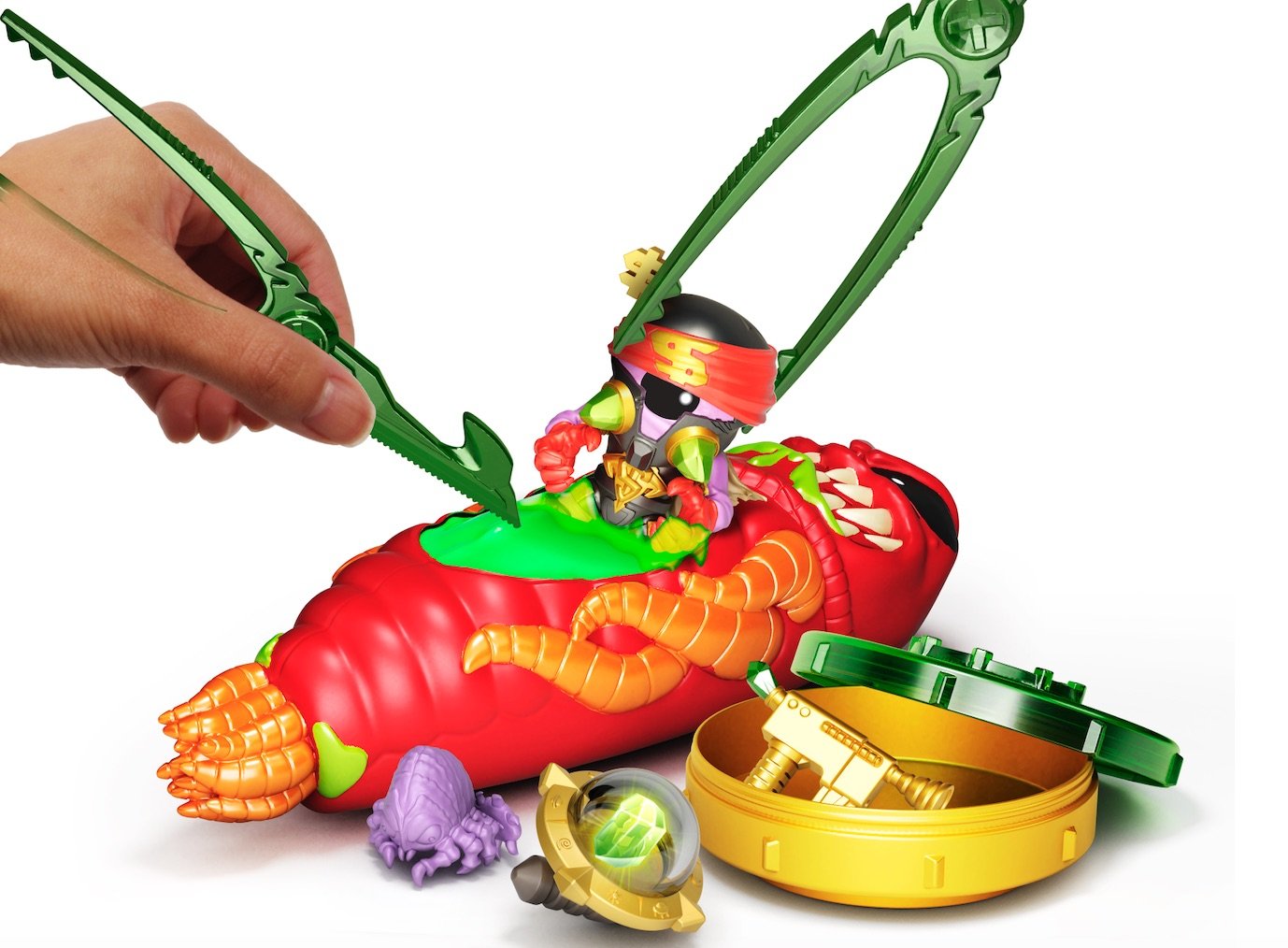 Moose Toys' popular Treasure X series appeals to not only mystery box enthusiasts, but also budding archaeologists who love chipping away to discover a variety of cool-looking skeletons. Season 2, which includes both dragons and pets, is on shelves, and now Moose plans to boldly go where no boney freak has gone before… outer space! Instead of busting through "stone", kids get to dissect an alien by removing its skin, ribs, and then digging around its slimy guts to find body parts to build their surprise figure. Yes, it's gross, and we want them all!
Stupid Deaths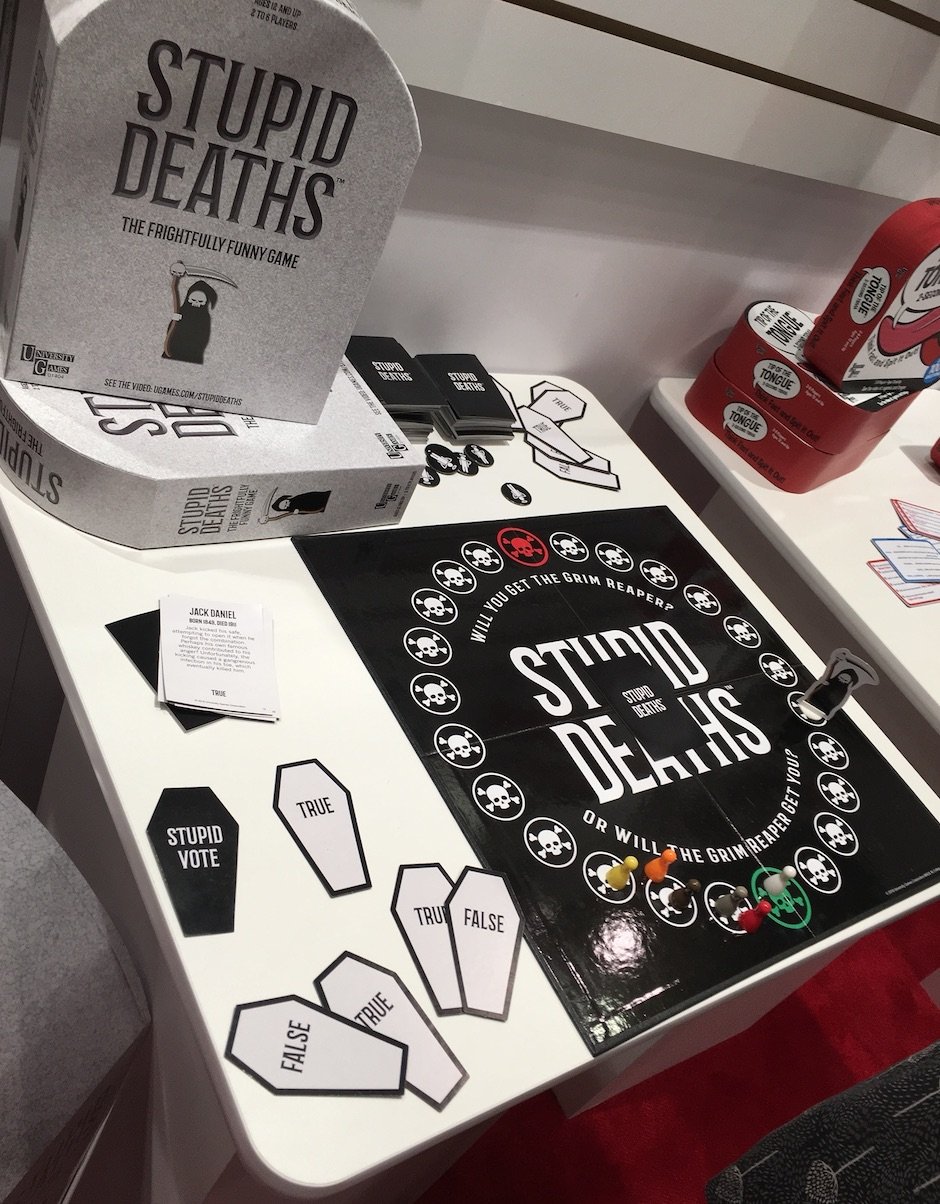 In this frightfully funny game, players read deaths off of cards and must guess whether they really happened. Seems like fun, but you might want to save it for teenagers, considering the macabre subject matter.
Spy School Sneaky Surveillance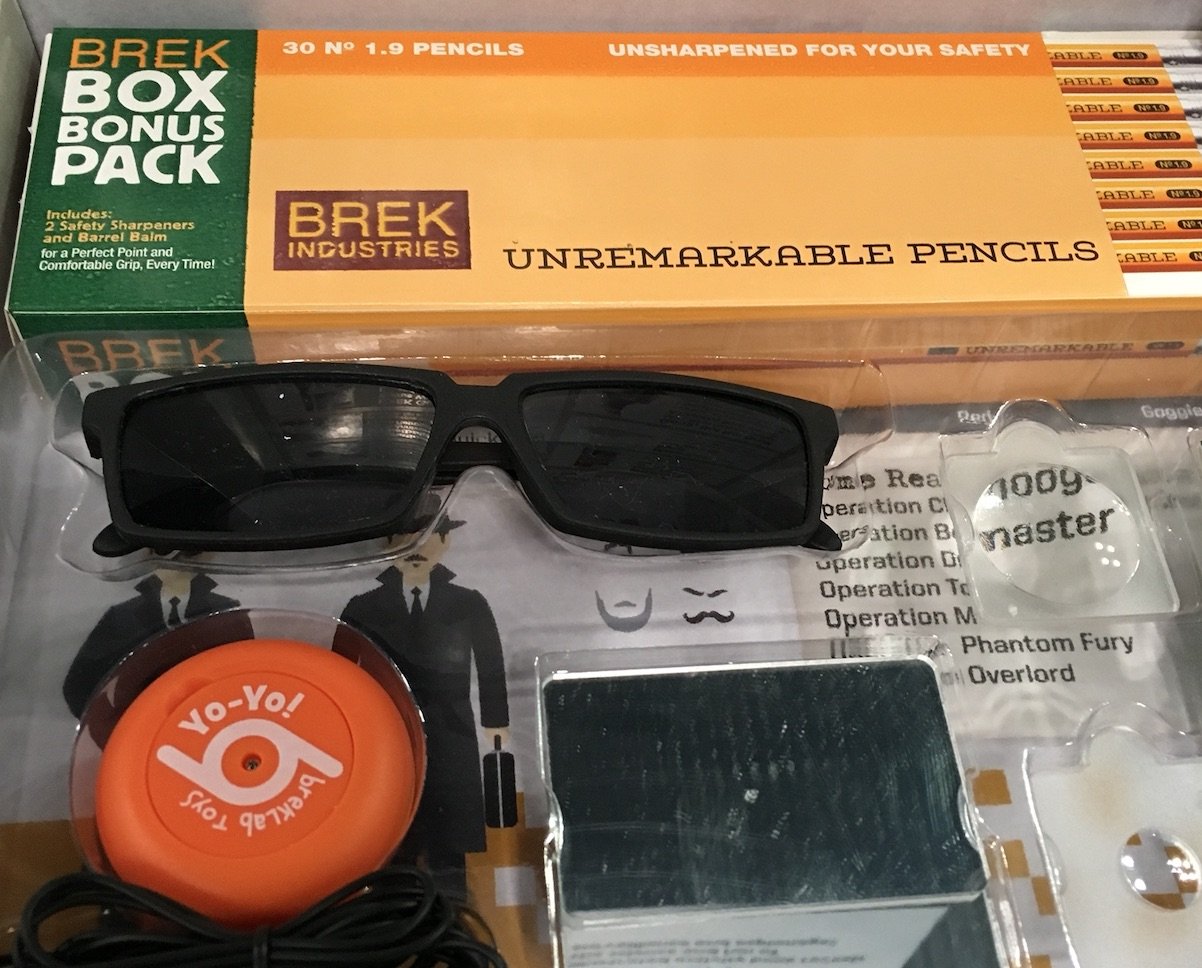 Who doesn't love spy gear? SmartLab gave us the old wink wink nudge nudge with its BREK Industries Spy School kit that at first glance looks unassuming, but upon further inspection includes a periscope disguised as a box of pencils, sunglasses that let you see behind you, and even a Yo-Yo with a built-in microphone.
Little People Big Dreams Book Lineup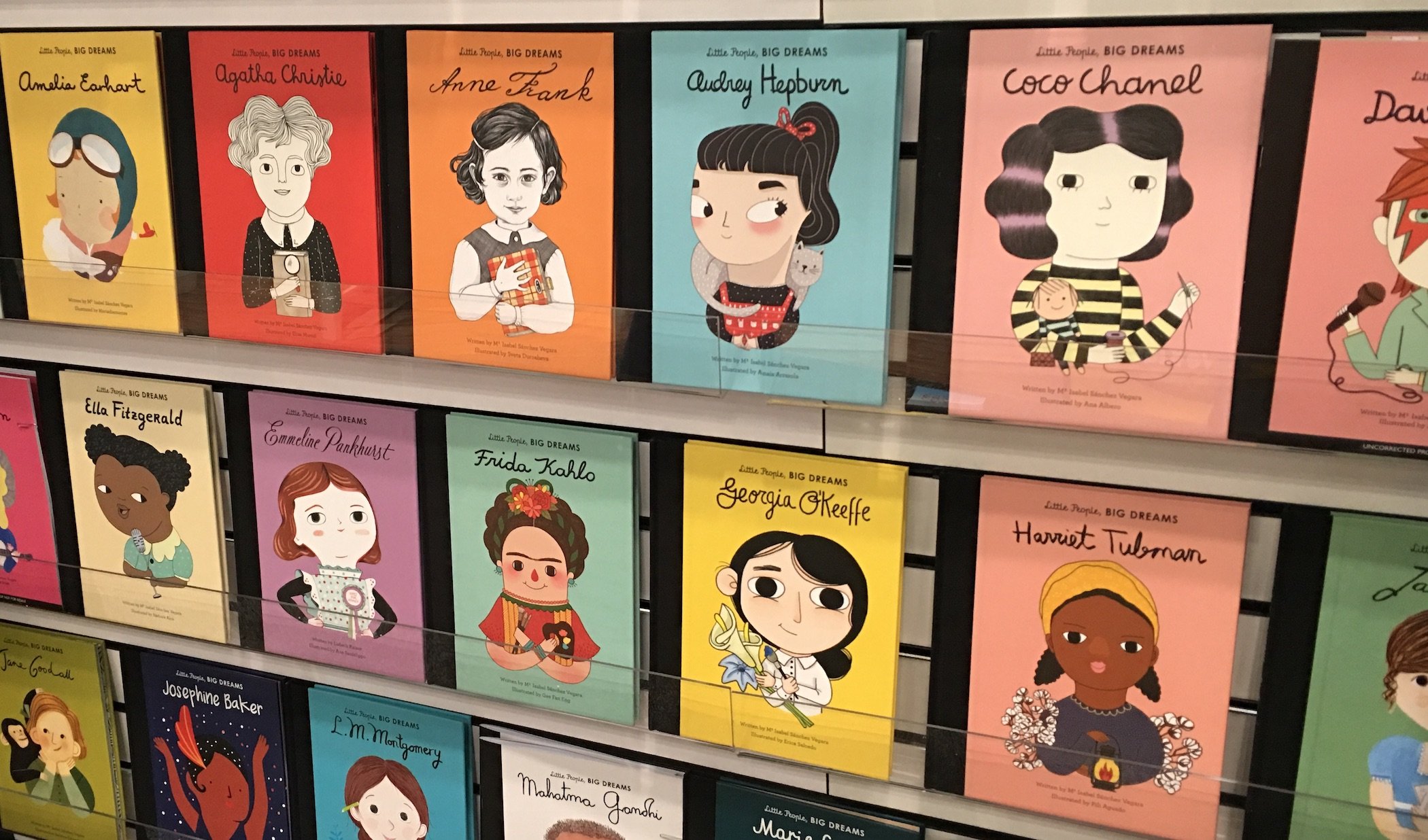 We adore these children's books that feature some of the most impactful people in history. Written with little ones in mind, the Little People Big Dreams lineup strips away much of the tragedy that many of these people experienced and instead praises their accomplishments and contributions to society. On that note, they're a wonderful intro to kids interested in learning more about people like Anne Frank, Amelia Earhart, and even David Bowie!
Mega Godzilla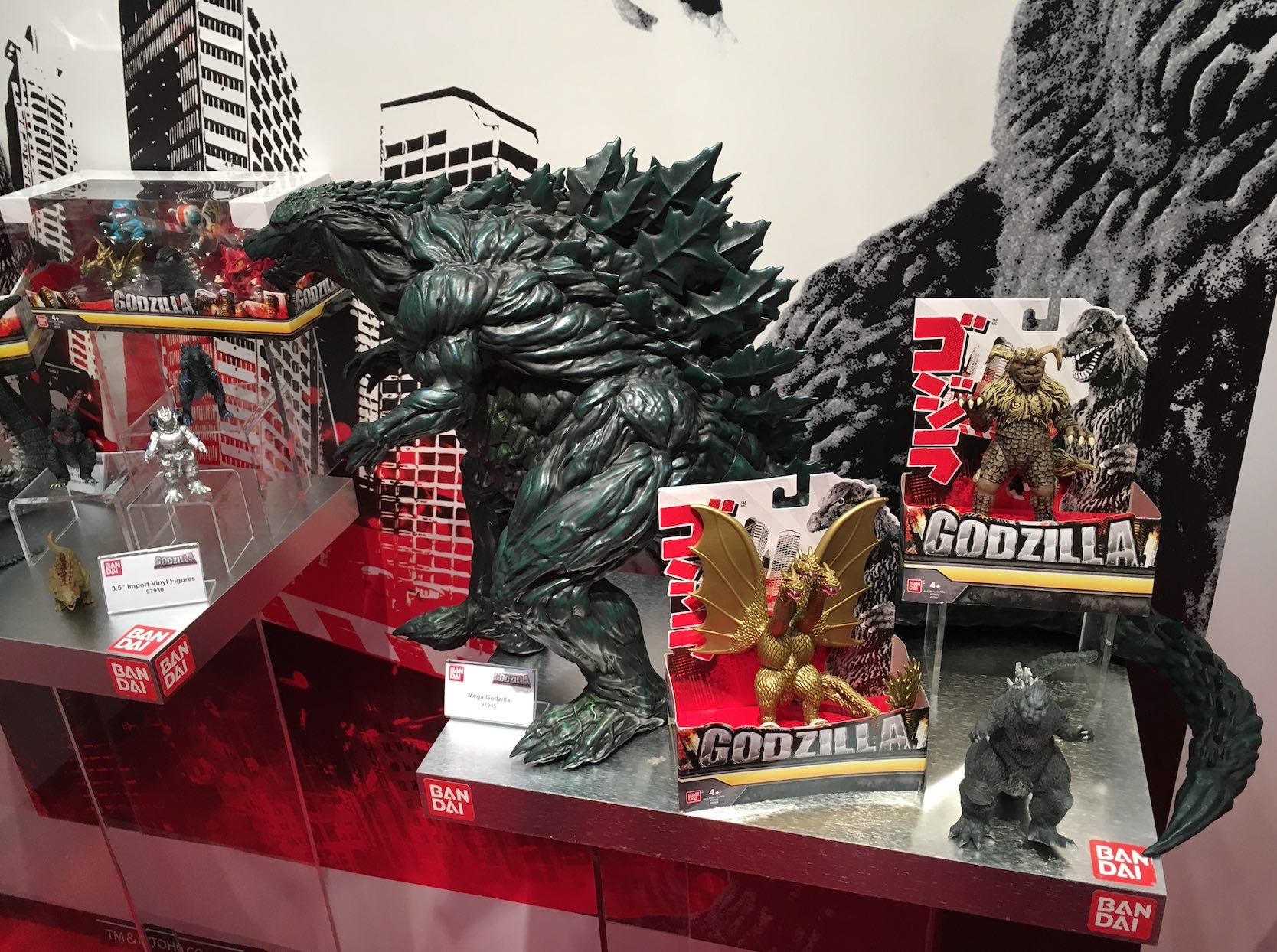 The new Godzilla movie, King of the Monsters, arrives in theaters on May 31, and Bandai will support the flick with a variety of creatures from the series, including the huge Mega Godzilla that is sure to tower over just about anything in someone's toy collection.
BTS from Funko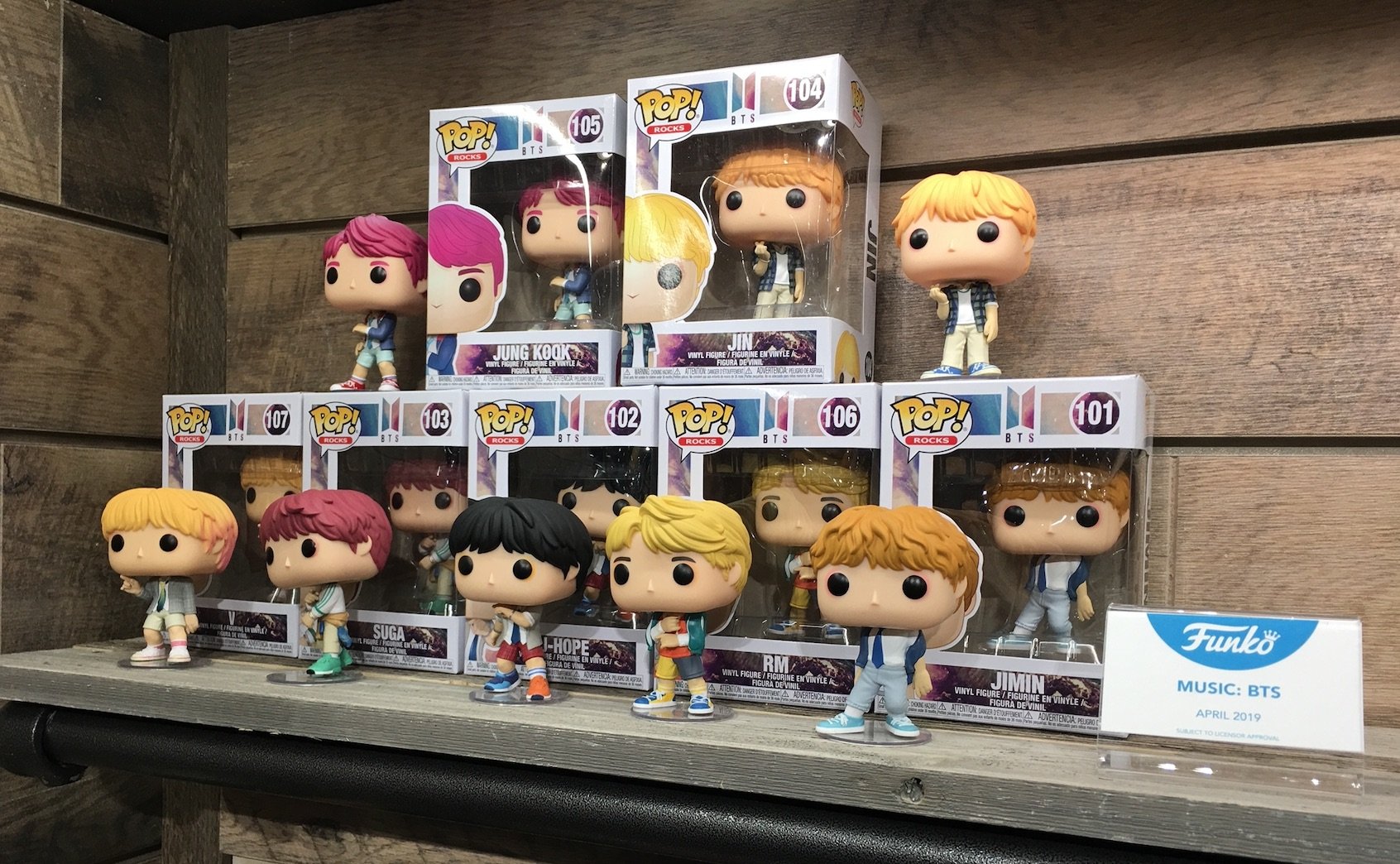 Of course, it wouldn't be Toy Fair without a trip to the Funko booth, and the company might have a global hit on its hands when these BTS Pops launch this April…
Post Malone from Funko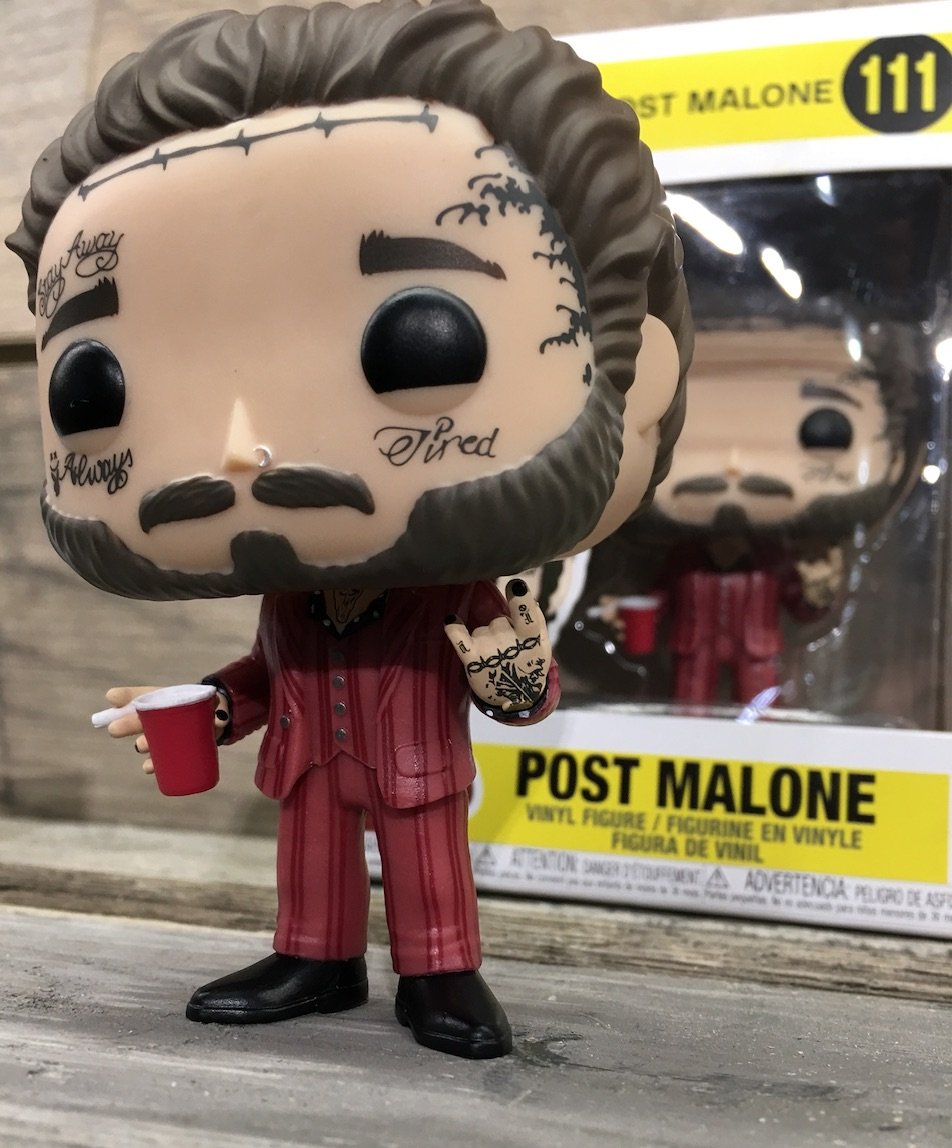 …but personally, we're bigger fans of Funko's take on Post Malone. They even nailed all of his tats!
WWE Airnormous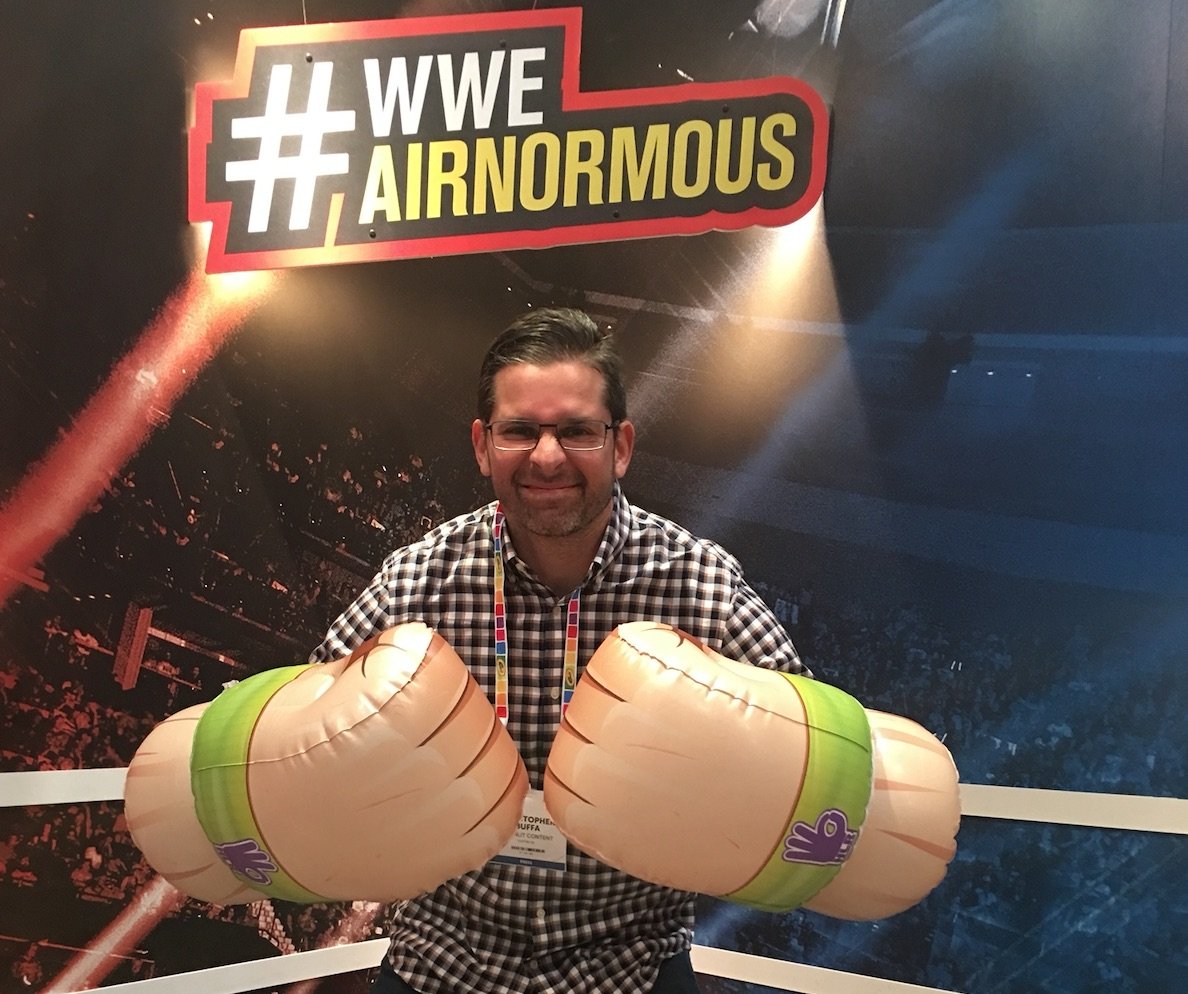 We definitely smell what Alpha Group is cooking with its WWE Airnormous lineup, which includes a series of inflatable WWE items like these massive John Cena hands that let you safely pulverize friends and family. The best part? The hands include over 10 John Cena phrases and sound effects!
Puzzle Taco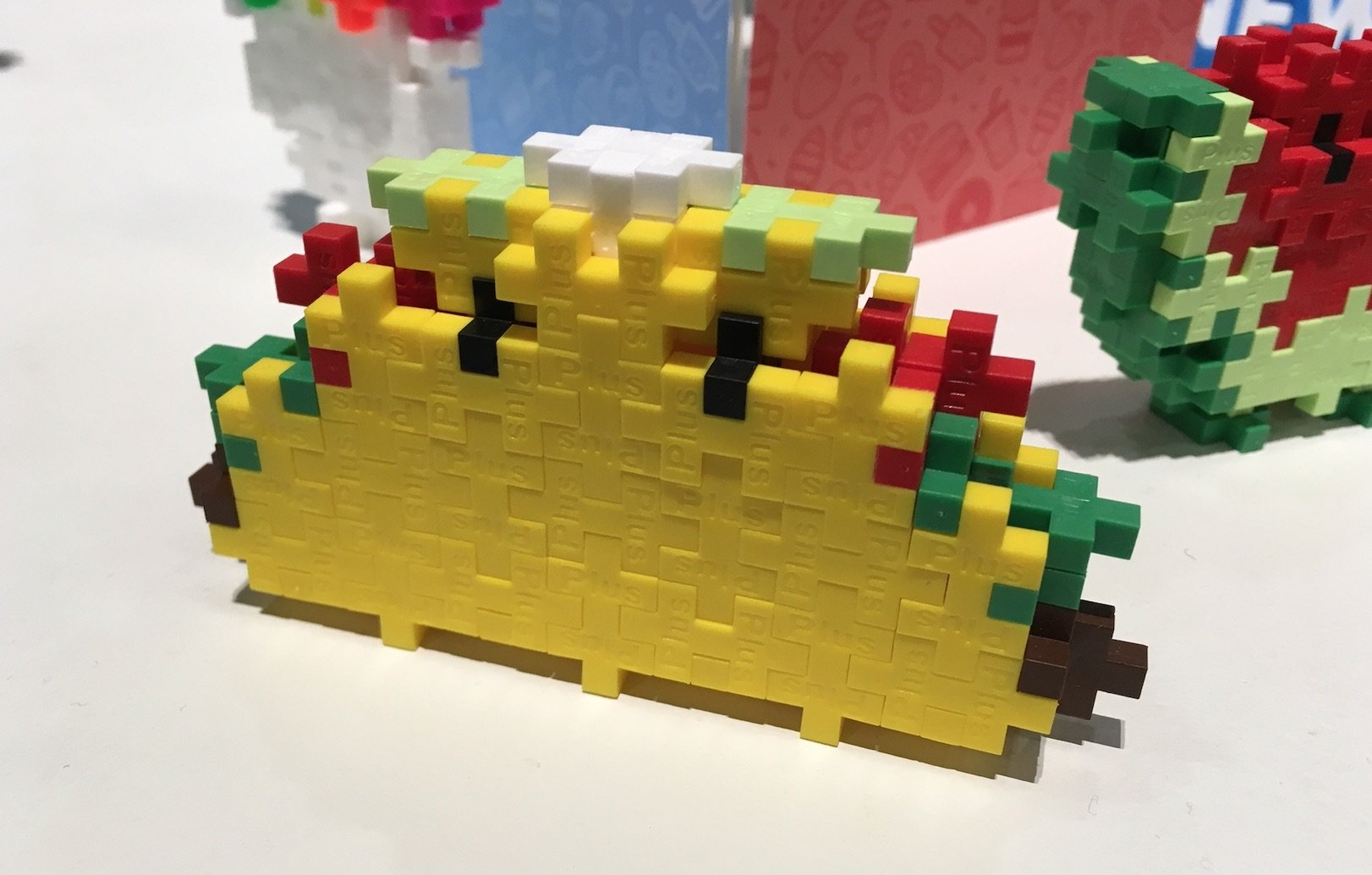 Finally, now it's taco Tuesday 24/7 with this must have puzzle taco from Plus-Plus. And yes, that's a watermelon on the right.