These games are SuperParent approved!
With so many kid-friendly games available on iPhone and iPad devices, it can be hard to know which games to try first! But don't fret — We're here with a list of some of the best kid-friendly games on iOS.
Keep in mind that these games include optional in-game purchases. Before you hand that iOS device to your little, make sure to check out our guide that will help you prevent them from spending money!
Minecraft
Price: $6.99 (with optional in-app purchases)
Rated: 9+
The mobile version of Minecraft is surprisingly robust, giving you all of the features and tools you'd expect from this sandbox building game. The game's Creative mode lets kids use their imaginations to build whatever they can think of with unlimited supplies, while the Survival mode gives them the option to test their skills as they collect resources, craft items (including weapons and armor), and defeat mobs. The game event lets kids play with their friends on different devices.
Pokemon Go
Price: Free (with optional in-app purchases)
Rated: 9+
The Pokemon Company and Niantic brought Pokemon Go to the world during the summer of 2016. To some of us, it was a blip of a game that got us outside and connecting with other human gamers in real life for a month. For others, Pokemon Go is life. And for kids, Pokemon Go is a fantastic introduction to the world of Pokemon before they dive into more advanced Pokemon role-playing games (RPGs) like Pokemon Sword and Pokemon Shield. The premise of Pokemon Go is to capture these adorable pocket monsters by wandering around your neighborhood and swiping on your device's screen to throw Poke Balls at them. Players in more rural areas may have some trouble finding a decent variety of Pokemon to catch, as well as PokeStops and Gyms to visit, but with tools like Incense, you can attract Pokemon to your location wherever you are. If you want to sprinkle a little bit more fun into your family walks, bring Pokemon Go with you.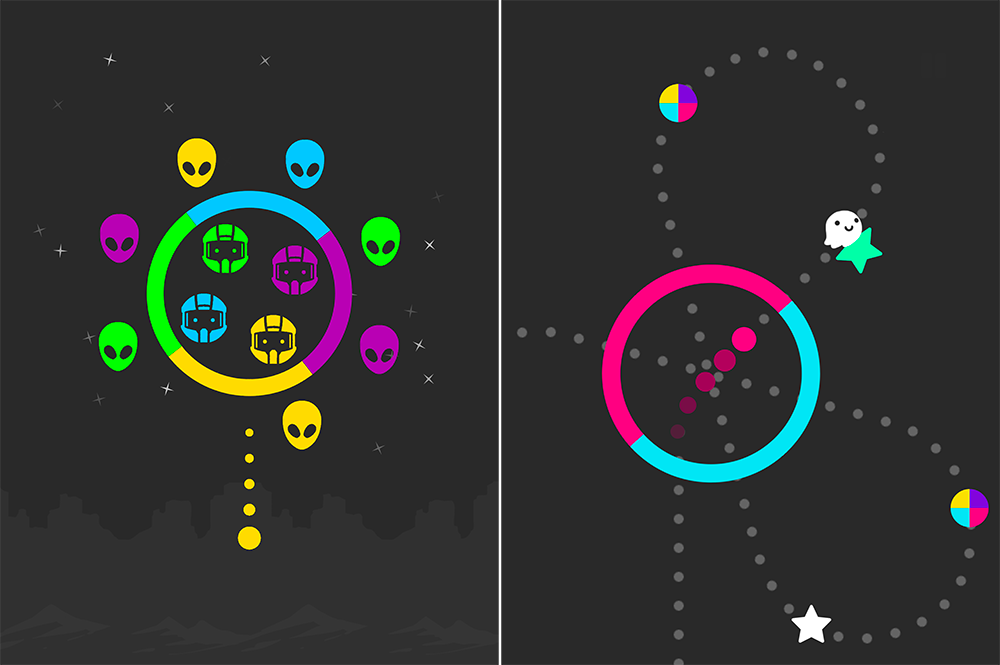 Color Switch
Price: Free (with optional in-app purchases)
Rated 4+
Color Switch is a challenging title that requires fast reflexes and strategic thinking on the fly. These days, my youngest son finds Color Switch relaxing, but back when he was still learning the game, he thrilled at finally making it through a hard level. There are multicolored geometric shapes that spin across the screen, and players tap the screen to bounce the ball through the shapes' matching colors. It's an engaging obstacle game that's easy to learn and difficult to master, allowing kids to get a number of hours of enjoyment out of it. – AF
Animal Crossing: Pocket Camp
Price: Free (with optional in-app purchases)
Age Rating: 4+
This mobile game from Nintendo lets you decorate a campsite (and more), craft custom decor, collect resources, and – most importantly — make friends with dozens of adorable talking animals. There's some waiting around for projects to be completed, with the option to spend money to hurry up the process, but that's the price you pay for this otherwise charming freemium game. Download Pocket Camp for your kids and watch them turn into happy little campers. (As an added bonus, Pocket Camp players can unlock free goodies in Animal Crossing: New Horizons on Switch.)
Toca Life World
Price: Free (with optional in-app purchases)
Rated: 4+
If your littles love games like Toca Hair Salon and Toca Kitchen Sushi, Toca Life World may be the last mobile game you ever need to download. Toca Life World is more of a limitless sandbox than a traditional game. Kids can explore different areas around a virtual town and use their imaginations to play with customizable characters at locations like a hair salon and a shopping mall. While the game includes a few locations that kids can explore for free, you can purchase many others with premium currency. Once you purchase a location, it's yours forever, so you can let kids pick their favorites if you want to buy them an expansion. Learn more about Toca Life World here.
Pokemon Masters EX
Price: Free (with optional in-app purchases)
Rated: 4+
Pokemon Masters EX features a twist on traditional Pokemon battles and lets players test their skills in three-on-three matchups featuring popular characters from throughout the massive Pokemon universe. The game has a lengthy (and ever-expanding) storyline to complete, and it's frequently updated with limited time events for players who want even more to do. While Pokemon Masters EX does contain ways to spend real money, in our experience, the game gives you plenty of premium currency for free, and we've never felt the pressure to open our wallets. Finally, even though Pokemon Masters EX is appropriate for kids, it does feature a lot of text, so youngsters need to know how to read (or play alongside someone who can).
Roblox
Price: Free (with optional in-app purchases)
Rated: 12+
Roblox is the massively popular social gaming platform that allows both professional and amatuer developers to create games and share them with the world. With new experiences being introduced all of the time, there's always something new to play. Just keep in mind that Roblox is an online game that allows players to interact with one another, so there's the potential for kids to run into inappropriate content. Check out our tips for keeping your kids safe in online games.
Monument Valley
Price: $3.99 (with optional in-app purchases)
Rated: 4+
This surrealist puzzle game (and its sequel, Monument Valley 2) is easily one of the most beautiful experiences on iOS. Nevermind that it's won a number of awards, Monument Valley forces players to look at their digital worlds from a variety of angles. Completing each level and its environment puzzles teaches kids better spatial problem solving. The story is far more symbolic than narrative, but you can't help but feel a sense of kinship for the little girl on her journey through Monument Valley.
Editor's Note: The original version of this article was written by Amanda Farough.
Top image © luckybusiness / Adobe Stock