A cute game that's unfortunately too difficult for the intended audience.
Baby Shark: Sing & Swim Party is now available on consoles and PC.
We had the chance to check out the Switch version of the game.
What is Baby Shark: Sing & Swim Party?
Baby Shark: Sing & Swim Party is a music rhythm game for 1-4 players inspired by the massively popular Baby Shark children's franchise.
Designed with preschoolers in mind, the game allows players to help Baby Shark and his family travel across the ocean to the Fintastic Festival music contest. Along the way, players will be able to listen to 30 songs from the Baby Shark universe, as well as watch voiced cutscenes starring Baby Shark and his family.
What do you do in this game? Is it fun to play?
Baby Shark: Sing & Swim Party features level-based gameplay, with levels split into two distinct types: "song" levels and "runner" levels.
During song levels, players are asked to press or press and hold the correct buttons in time with the music as prompts move across the screen and enter a metronome circle.
Runner levels, meanwhile, see Baby Shark and his family swim away from the screen automatically. Players are challenged to move their character left, right, forward, and backward (they can also "jump") to collect stars and cards while avoiding obstacles that appear in front of them and around them.
As players progress through the game, they'll have the chance to unlock a variety of collectibles, including cards and stickers that can be viewed in albums from the game's menu. Players can also unlock costumes for the game's playable characters to wear in future levels.
While Baby Shark: Sing & Swim Party has a simple premise, the game is surprisingly difficult, making the experience feel like it was designed for older kids and even adults rather than preschoolers. This is especially true for runner levels, which give players far too many obstacles to avoid.
As one example, ocean currents will begin appearing in runner levels early on in the game, which will cause the player's character to move left or right automatically. Players will need to account for this "force" being exerted on their character in order to avoid hitting obstacles.
With such an intense difficulty curve, younger or more inexperienced players may struggle to unlock all of the game's collectibles.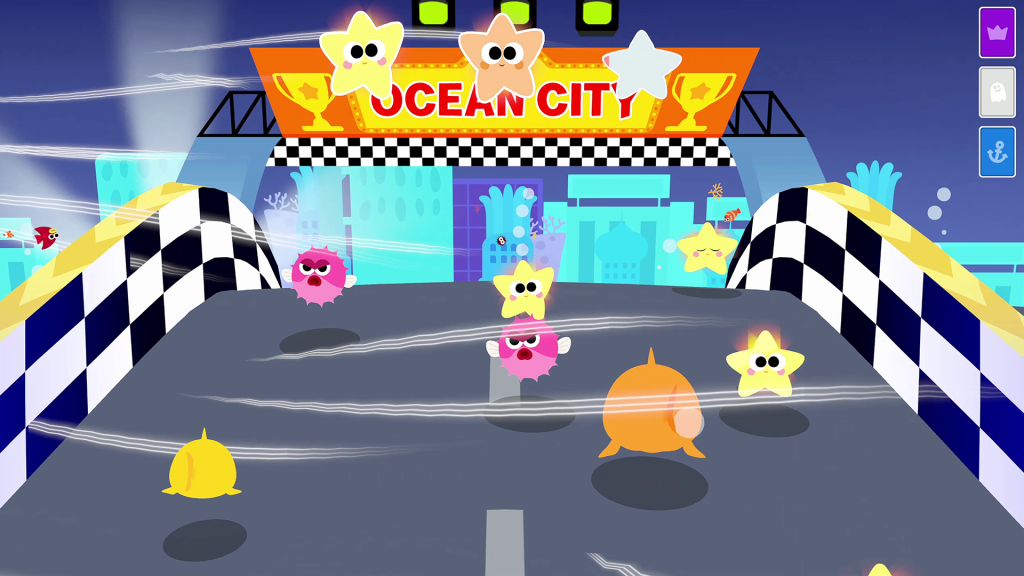 Players will receive up to three stars on each level, depending on their performance. So long as players earn at least one star, they'll unlock the next level and can continue playing. Players can also replay stages in an attempt to earn any stars and collectible items they may have missed the first time around (or if they simply enjoyed the level).
While a single person can play Baby Shark: Sing & Swim Party on their own, the game also supports local multiplayer gameplay for up to four players in the same room. Players can choose from five playable characters: Baby Shark, Mommy Shark, Daddy Shark, Grandpa Shark, and Grandma Shark. Players have the option to switch to a different character in between levels.
Finally, players can earn in-game achievements by completing the required tasks. For instance, one achievement asks players to beat 10 song levels. Players can also unlock the game's individual songs by earning three stars in song levels. Players can listen to the songs they've unlocked whenever they'd like with the lyrics appearing on the screen.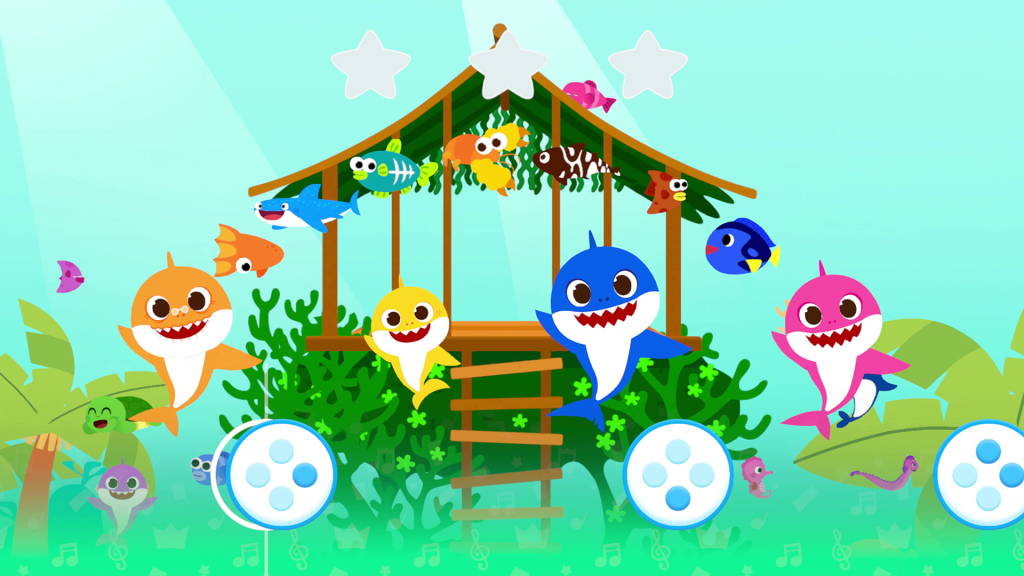 Is there anything else parents need to know about this game?
Baby Shark: Sing & Swim Party features voice acting and subtitles (including voice narration in the game's menus), and the tutorial for the appropriate level type (song or runner) appears before each level to remind kids how to play.
Unfortunately, voice acting is not included during these tutorials (instead, text instructions will appear on the screen), but the game does play animations related to the instructions so kids will know what to expect.
While these features make the game more accessible for younger players who may be playing the game on their own, the game's high difficulty will likely impact the amount of fun they'll ultimately have with the experience.
What's the verdict?
Baby Shark: Sing & Swim Party features cute cutscenes, bright colors and environments, and catchy songs players will likely end up singing to themselves even after they've stopped playing.
However, the game's difficulty level is far too challenging for the intended audience, so we ultimately can't recommend purchasing this game if it will only be played by the youngest members of your family.
---
Baby Shark: Sing & Swim Party is now available on Switch, PlayStation consoles, Xbox consoles, and PC for $39.99. The game is rated E for Everyone by the ESRB.
Disclosure: SuperParent received a code for Baby Shark: Sing & Swim Party for coverage purposes.