Everything you need to know about Apple's newest iPads, MacBook Air, and Mac mini.
Apple showed off its latest iPad, MacBook Air, and Mac mini models at an event today in New York. With the holiday shopping season quickly approaching, here's everything you need to know about these new devices that your kids (and even you) may want to add to your wishlist.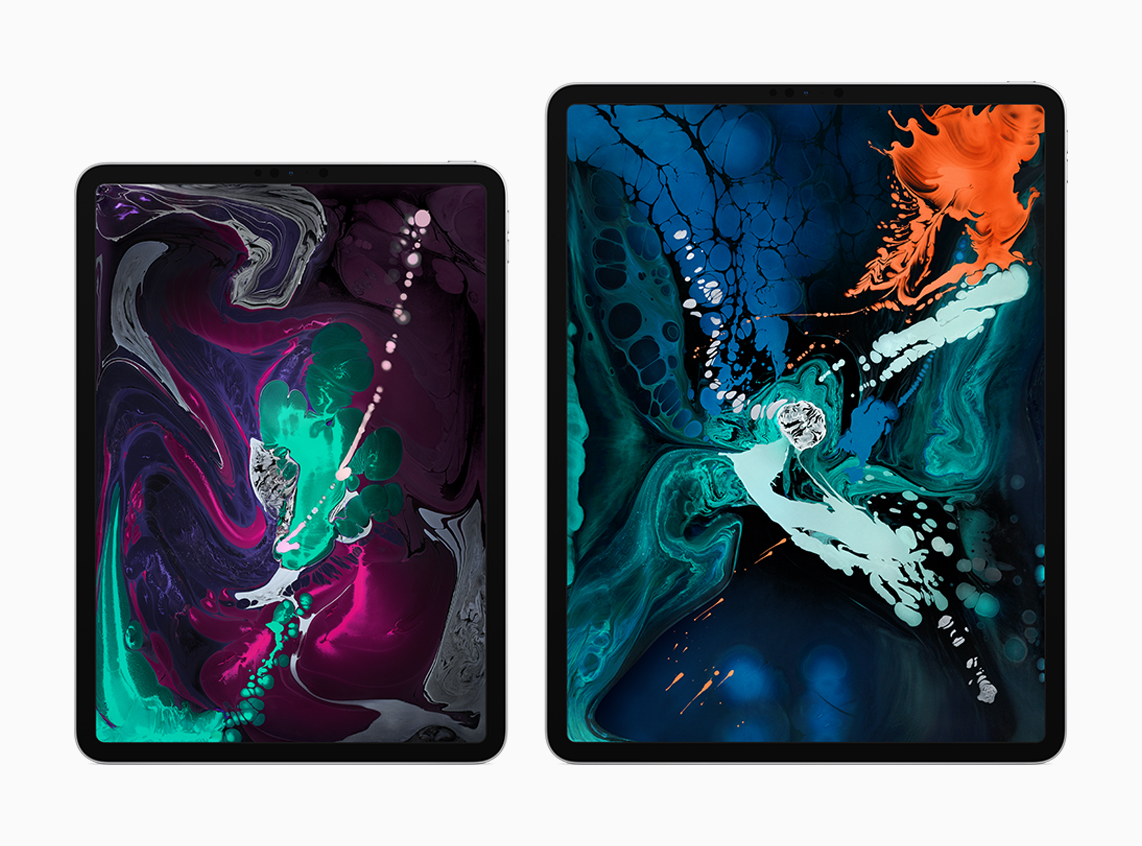 iPad Pro
The iPad Pro line of tablets was originally introduced in 2015. Each year, new models are released with improved specs and other features that show off Apple's latest technology. This year, two new iPad Pro models will be released, one with an 11 inch screen, and the other with a 12.9 inch screen.
These new iPad Pros feature improved displays, and are overall faster and more powerful than previous models. Apple said the devices have 10 hours of battery life, but that will vary depending on how you use the iPad (for instance, playing games versus reading).
While previous iPad Pro models had a home button, the new iPad Pros do not. That means users won't be able to use Touch ID to unlock them. Instead, the devices use Apple's Face ID technology, which allows users to unlock a device by simply looking at it.
The new iPad Pros also ditch Apple's Lightning connector (a proprietary technology) and replace it with a USB-C connector. This is an increasingly popular connector that's found on many modern devices (like Android smartphones, gaming laptops like the Razer Blade Stealth, and the Nintendo Switch). With this new connector, Apple said users can use the new iPad Pros to charge an iPhone by connecting the two with the appropriate cable.
Both iPad Pro models will be available in two colors — silver and space gray — and in four different storage options: 64GB, 256GB, 512GB, and 1TB. In the U.S., the 11-inch iPad Pro starts at $799 for the Wi-Fi model, and $949 for the Wi-Fi + Cellular model. The 12.9 inch iPad Pro starts at $999 for the Wi-Fi version and $1,149 for the Wi-Fi + Cellular version. You can order these devices starting Tuesday on Apple's website; they'll be released November 7 in the U.S.
This is already an expensive device, but Apple also introduced a few new accessories that you may want to pick up alongside it. A new version of the Apple Pencil (which can be used to do things like draw and jot notes on the iPad Pro screen) will be available for $129. The Smart Keyboard Folio, which protects the front and back of the device from damage and also includes a full-sized keyboard, will be available for $179 and $199 for the 11-inch and 12.9-inch models, respectively.
A Smart Folio without the keyboard will also be available for $79 and $99, respectively. The Smart Keyboard Folio is only available in space gray, while the Smart Folio comes in multiple colors.

MacBook Air
This much needed upgrade to the lightest, thinnest Apple laptop computer has a 13.3-inch display, which Apple said has 48 percent more color than the previous generation MacBook Air. It has a FaceTime HD camera for chatting with others in video calls, and users can call out "Hey Siri" to interact with Apple's virtual assistant. Apple said the computer offers up to 12 hours of battery life during "wireless web usage" and up to 13 hours of battery life when watching movies through iTunes.
The computer's speakers, keyboard, and trackpad have been improved when compared to previous devices, with the trackpad itself being 20 percent larger than the one on the previous generation MacBook Air. The speakers, meanwhile, are 25 percent louder than before.
To keep the device safe from outside users, the new MacBook Air features a Touch ID sensor, which lets users unlock the computer using their fingerprint. Touch ID can also be used to quickly make purchases using Apple Pay.
Parents, if you're interested in getting one of these devices for a younger user, keep in mind it's pretty lightweight. The new MacBook Air weighs 2.75 pounds and is only 0.61 inches thick at its thickest point.
The new MacBook Air starts at $1,199. It comes in three color options — gold, silver, and space gray — and it will be available starting November 7.

Mac mini
Mac mini is Apple's line of desktop computers that are smaller and cheaper than the company's popular all-in-one iMacs. The new Mac mini has five times faster performance than the previous generation, which Apple said will make tasks like photo- and video-editing faster than before.
Perhaps the biggest downside to the Mac mini is that it doesn't come with any accessories, or even a monitor. You'll have to provide those yourself (though, the argument could be made that it gives you more freedom when selecting these items to fit your needs and budget). Users can connect all sorts of devices to the Mac mini through ports on the back of the device.
The new Mac mini comes in a single color (space gray) and starts at $799. It's available to purchase starting Tuesday on Apple's website, and will be released November 7.
Top image courtesy of Apple.