Here's your second chance to collect this seasonal item.
If you missed your chance to collect the Grape-Harvest Basket in Animal Crossing: New Horizons in 2020, we have good news for you: The Grape-Harvest Basket has returned to the Nook Shopping catalog for a limited time.
This item celebrates the "Grape Harvest Festival" events that take place in Spain, Italy, France, and Germany each year.
The Grape-Harvest Basket isn't a standard decoration. Instead, it's a wooden backpack filled with grapes that your character can wear!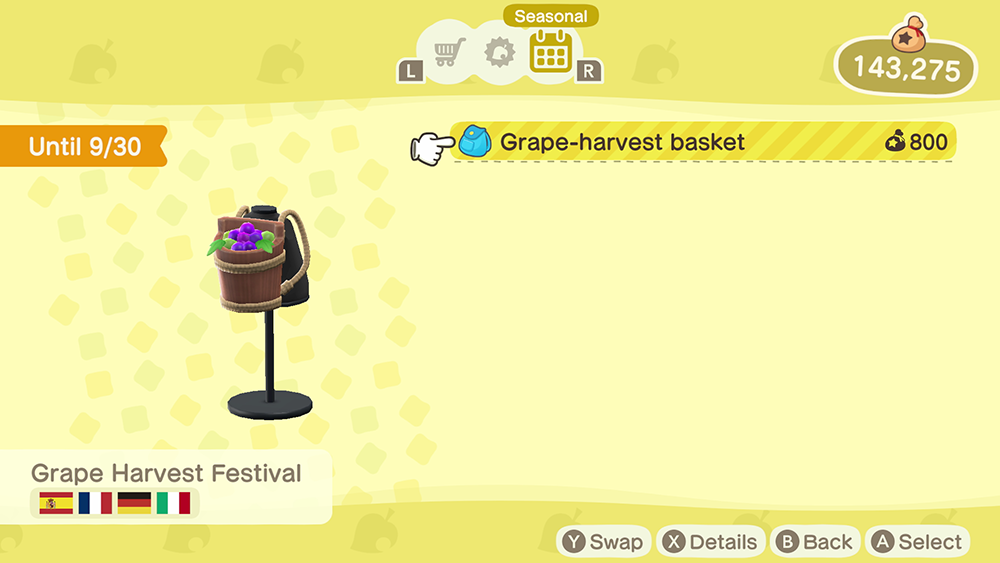 The Grape-Harvest Basket costs 800 Bells. You can buy one or more of these items from the Seasonal items tab of the Nook Shopping catalog (check out our guide for step-by-step instructions on how to buy one).
This item will be available until September 30, 2021, so make sure to buy as many as you think you'll need to want now before it leaves the store for another year!
What are some of your favorite seasonal items in Animal Crossing: New Horizons? Let us know on Twitter at @superparenthq.
Top image via Nintendo.

Brandy Berthelson has been writing about video games and technology since 2006, with her work appearing on sites including AOL Games, Digital Spy, and Adweek. When she's not gaming, Brandy enjoys crafting, baking, and traveling with her husband.