Now all players should be able to buy wet suits at Nook's Cranny.
A new update for Animal Crossing: New Horizons is now available, which brings the game to Ver. 1.3.1. While the update itself is a small one, it contains some significant bug fixes.
Most importantly, the update fixes the issue that caused some players to be unable to find a wet suit for sale at Nook's Cranny. Wet suits were added as part of the game's major swimming and diving update that was released near the beginning of July. After downloading this update, players were supposed to have the option to buy wet suits at Nook's Cranny, but they simply weren't showing up for some players.
While there was a workaround for this problem (completely closing the application and then restarting it), the Ver. 1.3.1 patch fixes this issue so everything works as it was designed to.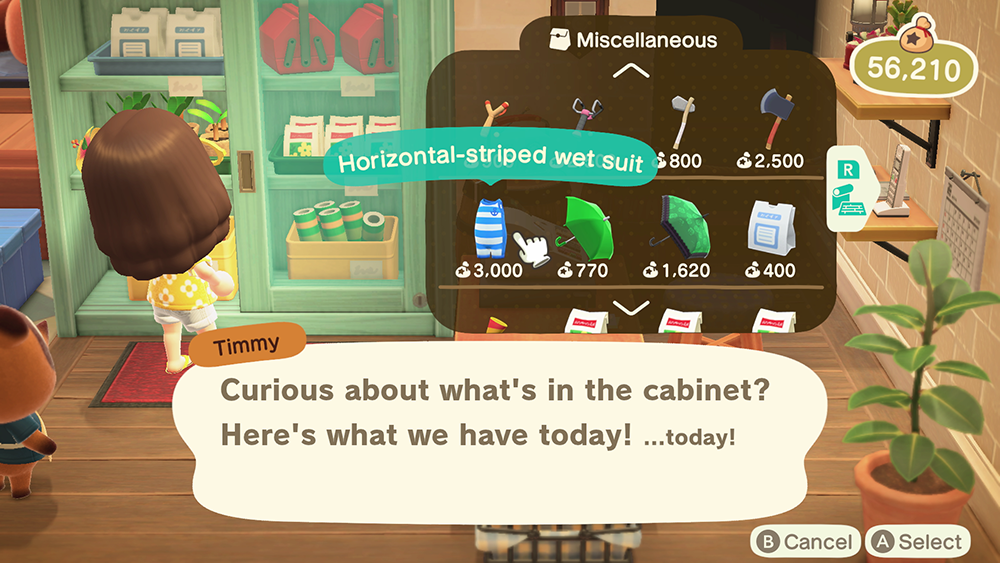 This update also contained a few more bug fixes, related to things like bridges and hermit crabs. Here are all of the issues that were addressed, according to Nintendo's support website:
"Addressed issue where players could not properly use a zen bridge or red zen bridge placed on top of a cliff (third tier).
Addressed issue where a wet suit would not be available for sale within Nook's Cranny.
Addressed issue where hermit crabs would appear in places other than the beach.
Addressed issue where a dialogue bubble would improperly appear after speaking with island residents."
Have you experienced any other issues that haven't been fixed in Animal Crossing: New Horizons? Let us know on Twitter at @superparenthq.

Brandy Berthelson has been writing about video games and technology since 2006, with her work appearing on sites including AOL Games, Digital Spy, and Adweek. When she's not gaming, Brandy enjoys crafting, baking, and traveling with her husband.