You can only collect Maple Leaves (and these recipes) for a limited time.
It's the middle of fall for Animal Crossing: New Horizons players with islands in the Northern Hemisphere, and that means it's time to catch some maple leaves!
Maple Leaves will appear on your island for a very limited time. According to Animal Crossing World, Maple Leaves will appear on islands in the Northern Hemisphere from November 16 to November 26, and on islands in the Southern Hemisphere from May 16 to May 26.
You can collect Maple Leaves by simply catching them with your net as they fall through the air.
These Maple Leaves can be used as ingredients in a variety of Maple Leaf-themed crafting recipes. The first time you login to New Horizons while Maple Leaves are falling, Isabelle will give you the first of these recipes — the Red-Leaf Pile — automatically.
The Red-Leaf Pile can be created using three Maple Leaves and four Clumps of Weeds.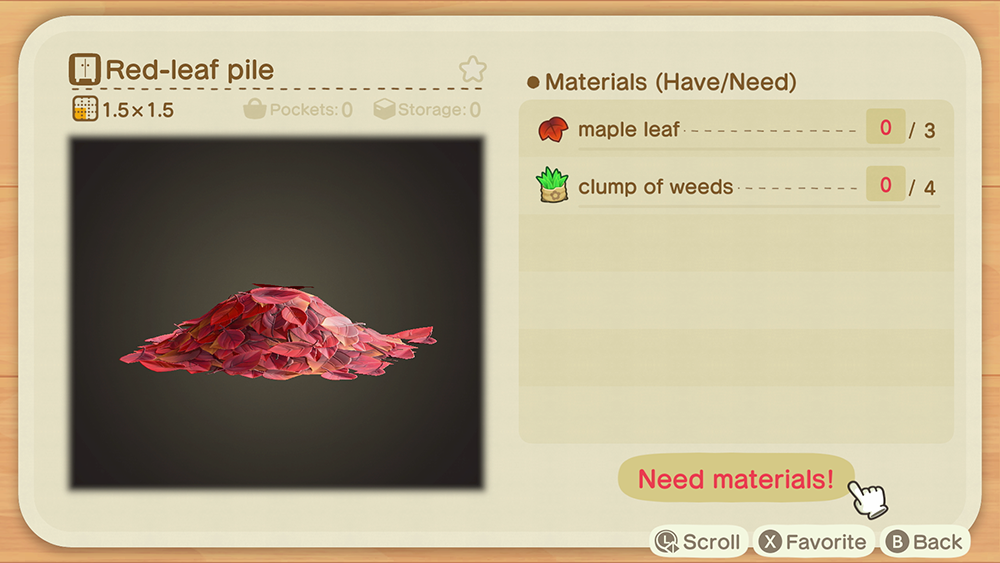 According to Animal Crossing World, there are nine Maple Leaf DIY recipes available to collect, (including the Red-Leaf Pile recipe), and you can collect these recipes by shooting balloons out of the sky during the limited amount of time that Maple Leaves are available.
Here are the other eight Maple Leaf-themed recipes and the items they require, according to Animal Crossing World.
Autumn Wall – 10 Maple Leaves, 5 Wood, 5 Clumps of Weeds
Colored-Leaves Flooring – 10 Maple Leaves, 15 Clumps of Weeds
Leaf Stool – 3 Maple Leaves, 3 Wood Maple
Leaf Pochette – 6 Maple Leaves
Maple-Leaf Pond Stone – 10 Stones, 3 Maple Leaves
Maple-Leaf Umbrella – 7 Maple Leaves
Tree's Bounty Arch – 4 Pine Cones, 5 Acorns, 5 Maple Leaves, 15 Tree Branches
Tree's Bounty Big Tree – 5 Pine Cones, 4 Acorns, 4 Maple Leaves, 8 Tree Branches, 4 Clay
It will likely take you quite a bit of time to collect all of the Maple Leaves you need to create these recipes. That being the case, you may want to check out the ChargePlay Clutch from HyperX. It can extend your device's battery life so you can play New Horizons (and other Switch games) for a longer period of time before having to charge your Switch. Head over to HyperX's website to learn more about the ChargePlay Clutch and the company's other Switch accessories.
To learn more about Animal Crossing: New Horizons, or to view the rest of our guides for the game, check out our previous coverage.
Disclosure: Nintendo gave SuperParent a code for Animal Crossing: New Horizons for coverage purposes. In addition, HyperX is a sponsor of SuperParent.