Pumpkins plants are a new item on our islands.
The Fall Update for Animal Crossing: New Horizons is officially here! The update brings lots of new features to the game, including a major Halloween event that will take place on our islands at the end of October.
The Fall Update also added a new crop for players to grow on their islands: Pumpkins! Here's everything you need to know about farming these crops in your game.
Before you can grow pumpkins, you'll need to purchase Pumpkin Starts from Leif or Nook's Cranny.
Leif sells Pumpkin Starts for 140 Bells each (or five for 700), while Nook's Cranny sells them for 280 Bells each (or five for 1,400). They're only sold during the month of October.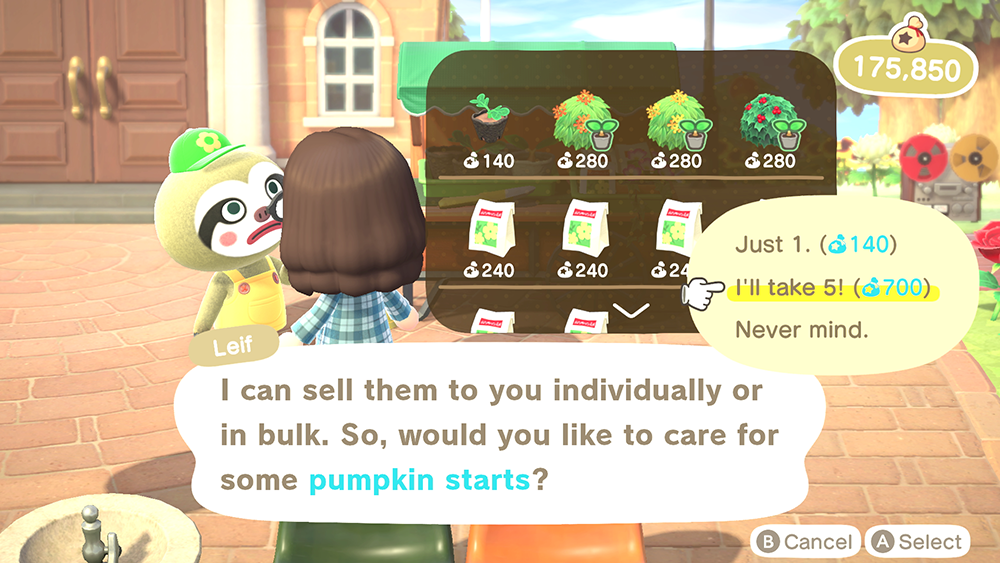 When you first talk to Leif in October, he'll tell you a few things about pumpkins. For one, he'll tell you that "watering your pumpkins makes them much happier." And that "[h]appy pumpkins means even more to harvest." Finally, Leif tells you that pumpkins come in four colors — orange, green, yellow, and white — but you won't know which pumpkin you'll receive from each plant until it fully grows.
Once you've purchased some Pumpkin Starts, you can plant them in the ground just like you'd plant a flower seed or tree. That is, you don't have to change the grass to dirt beforehand. Just open your inventory, select the Pumpkin Start(s), and select "Plant 1."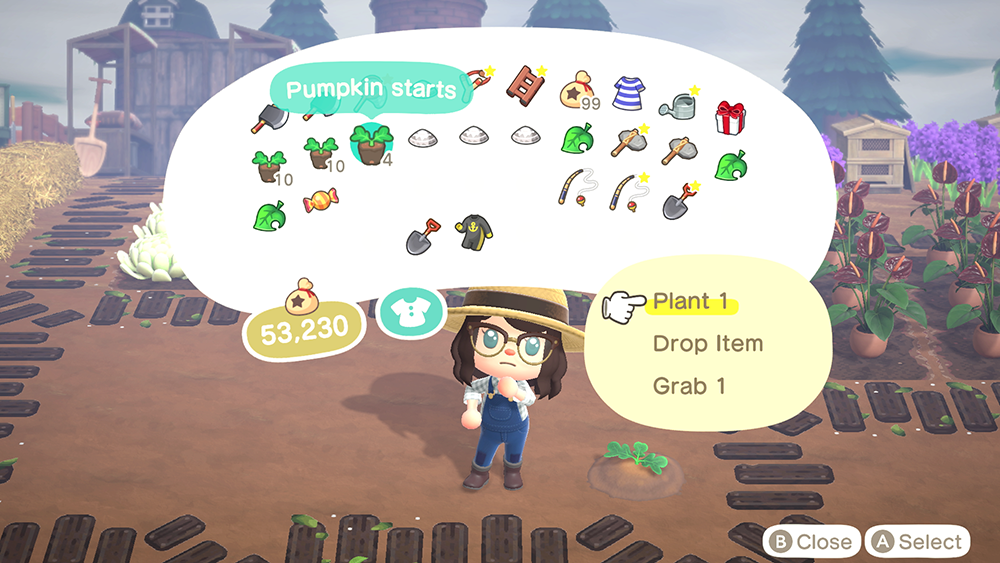 When a Pumpkin Start is planted, it becomes a "Small Pumpkin Sprout." If you want to move these plants around, you can freely dig them up with your shovel and replant them in the perfect spot.
Once you've planted one or more pumpkins, you can water them, just like you can water flowers. The soil around the plant won't change color, but the pumpkin plants will "sparkle" to remind you that they've been watered.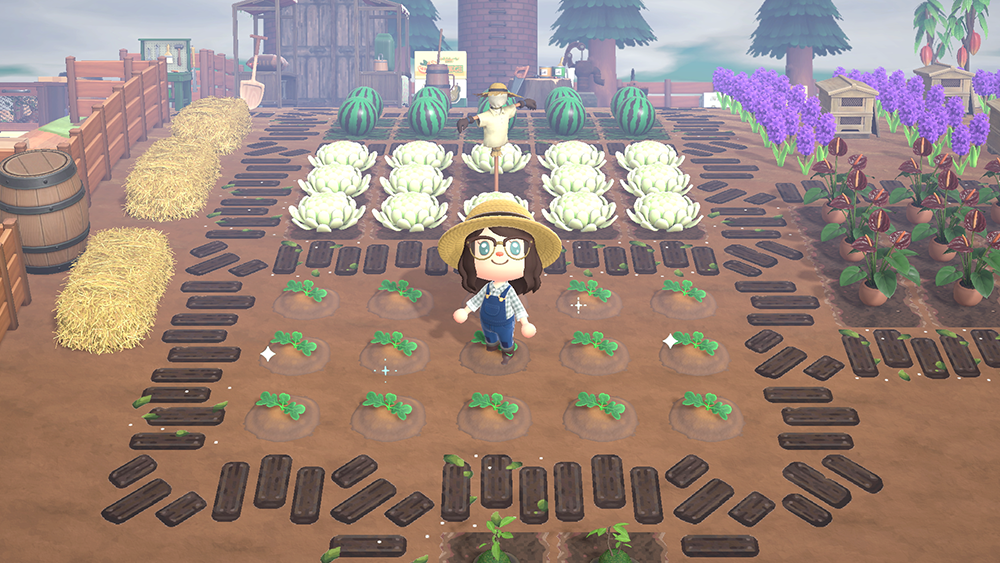 Pumpkins take three days to grow. That is, if you plant some pumpkins on October 1, they'll be ready three days later, on October 4. To harvest them, simply walk over to a pumpkin and press "Y." As you can see in the picture at the top of this post, we had three pumpkins grow in each patch because we made sure to water the pumpkins as they grew.
Keep in mind that once you harvest pumpkins, the plant will still remain in the ground, and will regrow in a few days' time. This is similar to how flowers will regrow even after you've picked them.
Finally, it's possible for your friends to pick your pumpkins, so if you have plenty to share, invite them over for a harvesting party!
Once you've harvested some pumpkins, you can use them to create special DIY crafting recipes. According to Game8, you can collect these recipes by shooting down balloons or by giving candy to your animal friends on Halloween.
Keep checking back with SuperParent, as we'll make sure to bring you more information about these crafting recipes as we have it!
To learn more about Animal Crossing: New Horizons, or to view the rest of our guides for the game, check out our previous coverage.
Disclosure: Nintendo gave SuperParent a code for Animal Crossing: New Horizons for coverage purposes.