This large fish is back on islands in the Northern Hemisphere.
If you purchased Animal Crossing: New Horizons as soon as the game launched back in March of 2020 (and you placed your island in the Northern Hemisphere), you only had a few days to catch a sturgeon before this large fish disappeared for a few months.
If you didn't catch a sturgeon back in March, or if you weren't even playing New Horizons back then, you now have the chance to add one of these large fish to your collection, since it's come back to islands in the Northern Hemisphere.
Specifically, sturgeon will appear on islands in the Northern Hemisphere from September to March. According to Eurogamer, they will appear on islands in the Southern Hemisphere from March to September. The sturgeon can appear at the mouth of the river at any time of day. This is the area where the river opens up into the sea.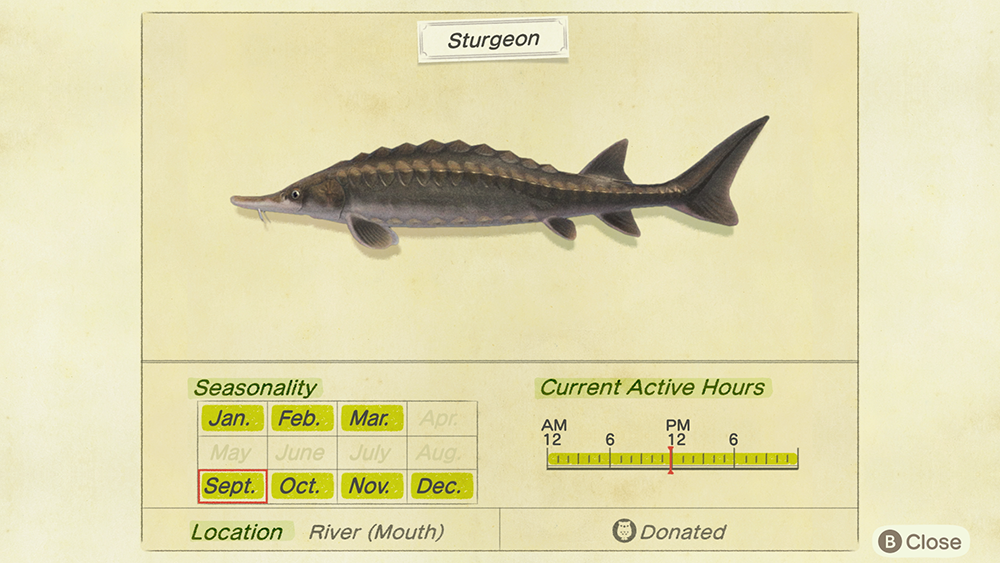 Sturgeons are very large fish, and they have large shadows to match. Check out our short gameplay clip below to see the exact shadow size to look for when you want to catch one of these fish!
A single sturgeon can be sold for 10,000 Bells at Nook's Cranny, or for even more if you sell it to C.J. when he visits your island. Just remember that you'll also need to donate one of these fish to Blathers at the museum if you want to finish your museum's fish collection.
In our experience, sturgeons aren't very common, so it may take you quite some time to track one down. That being the case, you may want to check out the ChargePlay Clutch from HyperX. It can extend your device's battery life so you can play New Horizons (and other Switch games) for a longer period of time before having to charge your Switch. Head over to HyperX's website to learn more about the ChargePlay Clutch and the company's other Switch accessories.
To learn more about Animal Crossing: New Horizons, or to view the rest of our guides for the game, check out our previous coverage.
Disclosure: Nintendo gave SuperParent a code for Animal Crossing: New Horizons for coverage purposes. In addition, HyperX is a sponsor of SuperParent.