Here's where and when you can find this bright blue insect.
In Animal Crossing: New Horizons, there are a few insects that will only appear on tree stumps that are left behind after you've chopped down trees with an axe. One of these is the rosalia batesi beetle, and it's now appearing on islands in the Northern Hemisphere.
Specifically, players in the Northern Hemisphere can catch the rosalia batesi beetle from May to September. According to our friends at All Gamers, the insect will appear between November and March in the Southern Hemisphere. The insect can appear at any time of day.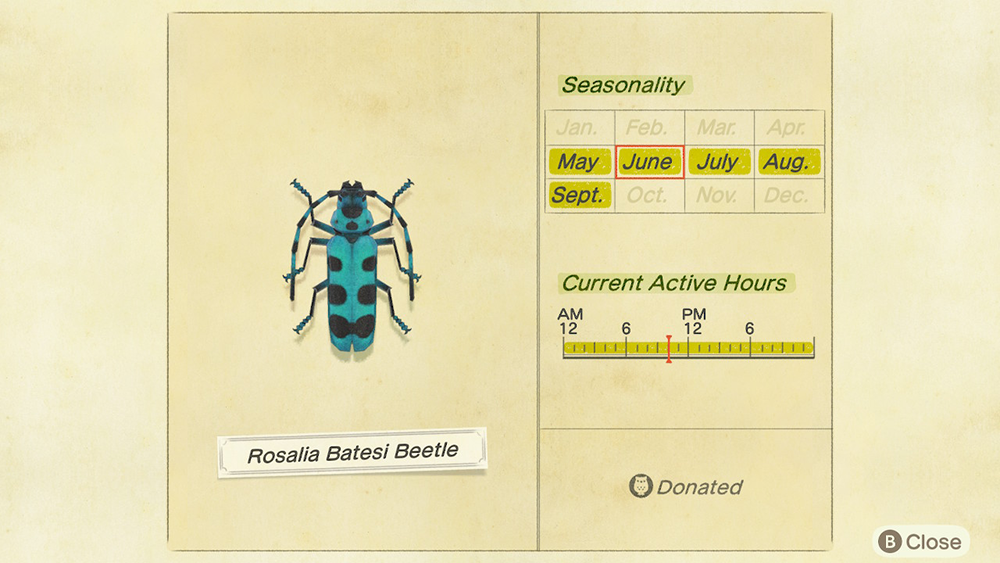 As we mentioned at the top of this post, the rosalia batesi beetle will only appear on tree stumps. If you want to increase your chances of one of these insects appearing, you can chop down multiple trees so that you have more than one stump around your island.
When one of these bugs appears, remember that you can sneak up on it by pressing and holding the "A" button on your controller. When you release the "A" button, your character will swing the net in the direction they're facing. If you use this technique, you may be able to catch one of these bugs without scaring it off! (Just don't walk too close to the bug, or you may still frighten it.)
To see this technique in action, check out our short gameplay clip below.
A single rosalia batesi beetle can be sold for 3,000 Bells at Nook's Cranny, or for even more if you sell it to Flick.
Finally, keep in mind that you can also donate three of these insects to Flick if you want him to create a model of the bug for you to display.
To learn more about Animal Crossing: New Horizons, or to view the rest of our guides for the game, check out our previous coverage.
Disclosure: Nintendo gave SuperParent a code for Animal Crossing: New Horizons for coverage purposes.