This noisy insect hangs out on trees!
The world of Animal Crossing: New Horizons is full of insects of all shapes and sizes, including multiple cicadas that hang on the sides of trees. One of these is the robust cicada, and it's now appearing on islands in the Northern Hemisphere.
Specifically, players with islands in the Northern Hemisphere can find the robust cicada during July and August. According to All Gamers, players with islands in the Southern Hemisphere can find this insect during January and February. The robust cicada can appear at any time between 8 a.m. and 5 p.m.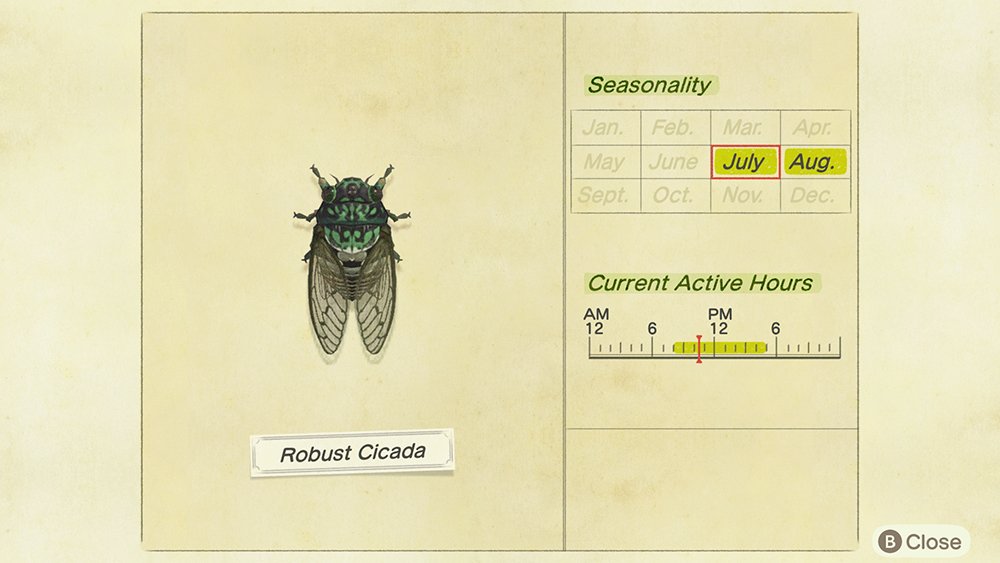 Like the brown cicada and the giant cicada, you may be able to hear the robust cicada before you actually see it, since it makes a loud noise as it hangs on a tree.
In our gameplay video below, we allowed the robust cicada to make noise for a few moments so you can hear exactly what it sounds like. That way, you'll know what to listen for as you're playing your own game.
A single robust cicada can be sold for 300 Bells at Nook's Cranny, or for a few Bells more if you sell it to Flick when he visits your island. Also keep in mind that you'll need to donate one of these critters to Blathers if you want to complete your museum collection!
To learn more about Animal Crossing: New Horizons, or to view the rest of our guides for the game, check out our previous coverage.
Disclosure: Nintendo gave SuperParent a code for Animal Crossing: New Horizons for coverage purposes.

Brandy Berthelson has been writing about video games and technology since 2006, with her work appearing on sites including AOL Games, Digital Spy, and Adweek. When she's not gaming, Brandy enjoys crafting, baking, and traveling with her husband.