This creature has a unique shadow to watch out for.
The ribbon eel is one of the most unique creatures players can capture in Animal Crossing: New Horizons.
Unlike other fish, this one doesn't appear in the water with a standard fish-shaped shadow. Instead, you'll know you've found an eel when you see a long, thin shadow that resembles the eel itself.
For islands in the Northern Hemisphere, the ribbon eel is available to capture from June to October. According to GameWith, it appears around islands in the Southern Hemisphere from December to April. The ribbon eel can appear at any time of day during the months that it's available.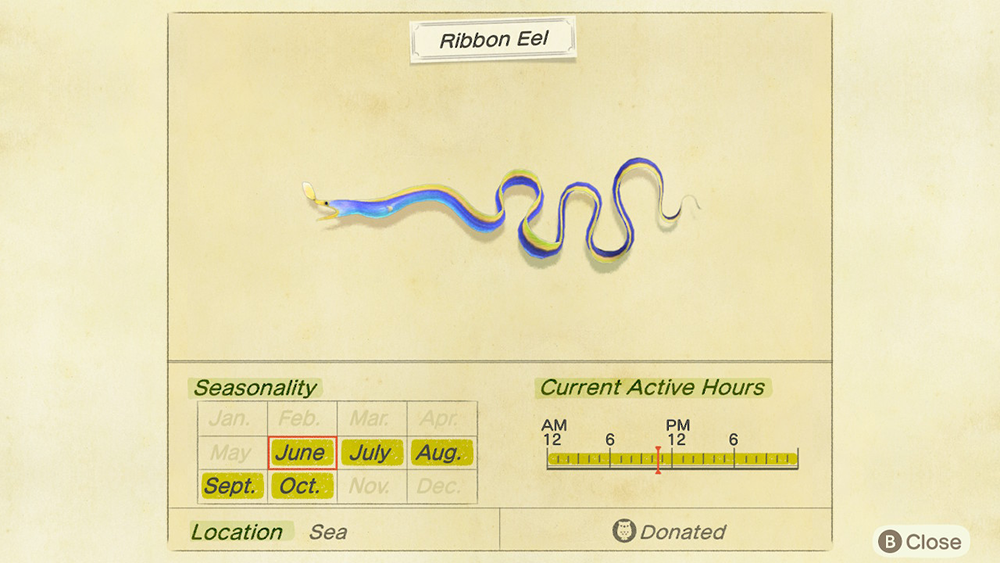 Since the ribbon eel has a very unique appearance (both in the water and out), you can check out our short gameplay clip below to see exactly what to look for when you're trying to catch one of these creatures.
If you come across multiple ribbon eels, remember to donate at least one to Blathers at the museum before you sell the others at Nook's Cranny. Each ribbon eel sells for 600 Bells.
Finally, if you want to speed up your hunt for a ribbon eel, remember that you can use Fish Bait to cause random fish to spawn instantly. There's no guarantee that using Fish Bait will quickly cause a ribbon eel to spawn, but this technique may be better than waiting for one to appear on its own.
To learn more about Animal Crossing: New Horizons, or to view the rest of our guides for the game, check out our previous coverage.
Disclosure: Nintendo gave SuperParent a code for Animal Crossing: New Horizons for coverage purposes.

Brandy Berthelson has been writing about video games and technology since 2006, with her work appearing on sites including AOL Games, Digital Spy, and Adweek. When she's not gaming, Brandy enjoys crafting, baking, and traveling with her husband.