This lovely insect shines in the light.
In Animal Crossing: New Horizons, there are seven different varieties of "stag" beetles available to catch and donate to Blathers at the museum. One of these is the rainbow stag, and it's now appearing on islands in the Northern Hemisphere!
Specifically, the rainbow stag will appear on islands in the Northern Hemisphere from June to September. According to AllGamers, it will appear on islands in the Southern Hemisphere from December to March. The rainbow stag can appear on the side of a tree at any point between 7 p.m. and 8 a.m.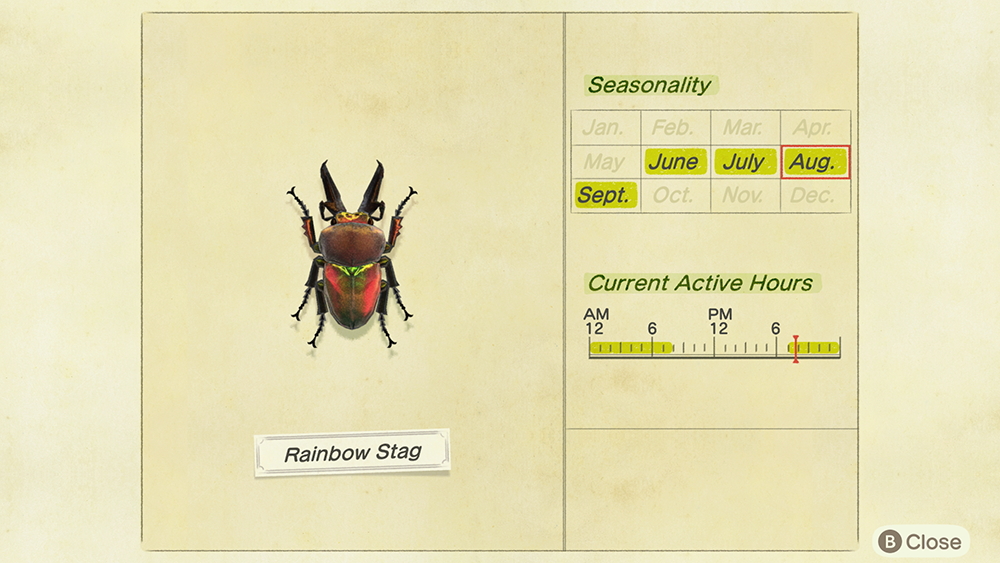 In our experience, the rainbow stag isn't very common. You may be able to make it easier to encounter one by using a Nook Miles Ticket to travel to a mystery island. That way, you can encounter lots of bugs in a relatively small area rather than searching for a rainbow stag on your larger home island (which, in theory, takes more time).
Check out our short gameplay clip below to see what a rainbow stag looks like when it's hanging on the side of a tree!
Rainbow stags can be sold for 6,000 Bells each at Nook's Cranny, or for even more if you sell them to Flick when he visits your island.
Since rainbow stags aren't the most common insects, it may take you a while to come across one. That being the case, check out the ChargePlay Clutch from HyperX. It can extend your device's battery life so you can play New Horizons (and other Switch games) for a longer period of time before having to charge your Switch. Head over to HyperX's website to learn more about the ChargePlay Clutch and the company's other Switch accessories.
To learn more about Animal Crossing: New Horizons, or to view the rest of our guides for the game, check out our previous coverage.
Disclosure: Nintendo gave SuperParent a code for Animal Crossing: New Horizons for coverage purposes. In addition, HyperX is a sponsor of SuperParent.