Here's when and where you can catch this particular fish.
As you work to fill your museum collection in Animal Crossing: New Horizons, one of the many fish you'll need to catch and donate is the piranha.
Players with islands in the Northern Hemisphere can catch piranha between June and September. According to GameWith, this fish appears on islands in the Southern Hemisphere from December to March.
The piranha is pretty unique, since it actually appears during two different periods each day. First, you can catch it between 9 a.m. and 4 p.m., and then again between 9 p.m. and 4 a.m.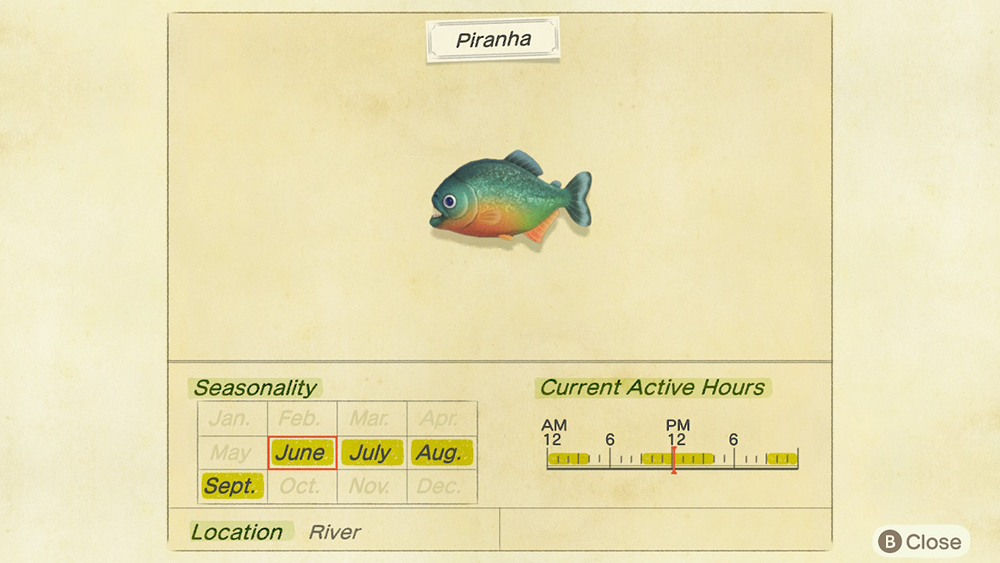 The piranha has a small shadow size. You can see the exact shadow to watch out for in our gameplay clip below.
If you want to make your hunt for a piranha a bit easier, remember that you can use Fish Bait to cause random fish to appear in the river in front of you. You're not guaranteed to run into a piranha using Fish Bait, but this technique may be worth trying if you have lots of extra Fish Bait to spare.
Also keep in mind that you can catch fish on mystery islands. Fish spawn frequently on these islands, so it may be worth buying a Nook Miles Ticket if you want to catch lots of fish fast.
Finally, a piranha can be sold for 2,500 Bells at Nook's Cranny, making this a great fish to look out for if you need extra in-game money.
To learn more about Animal Crossing: New Horizons, or to view the rest of our guides for the game, check out our previous coverage.
Disclosure: Nintendo gave SuperParent a code for Animal Crossing: New Horizons for coverage purposes.