Here's everything you need to know about this butterfly.
There are lots of different butterflies available to catch and donate in Animal Crossing: New Horizons, including the great purple emperor, which is now appearing on islands in the Northern Hemisphere.
Specifically, the great purple emperor will appear on islands in the Northern Hemisphere from May to August. According to All Gamers, it will appear on islands in the Southern Hemisphere from December to March. The insect can appear at any time between 4 a.m and 7 p.m.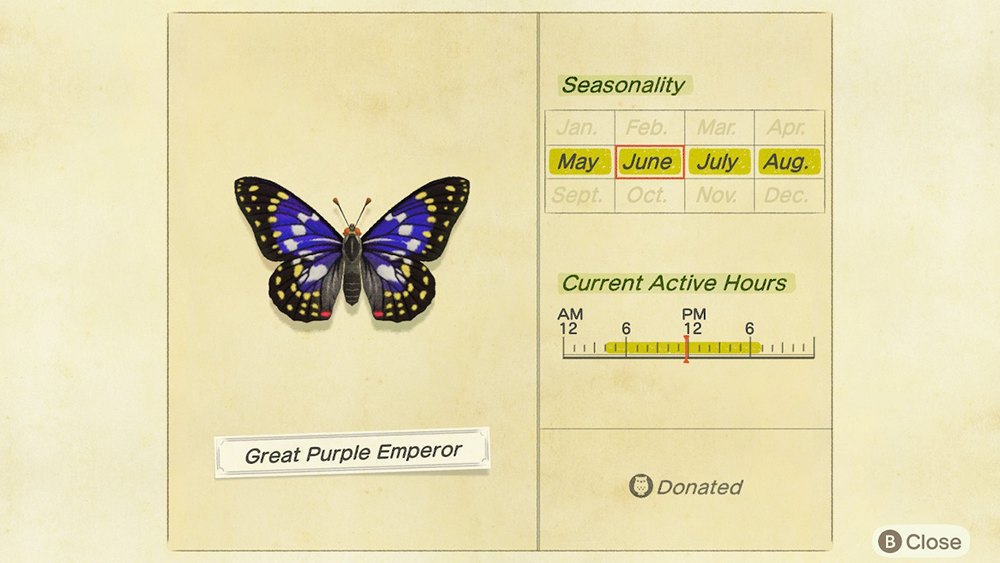 The great purple emperor is a medium-sized butterfly, and it has an interesting flight pattern. That is, it frequently stops flapping its wings and glides through the air, which can help it stand out from other butterflies in the game. Check out our short gameplay clip below to see how a great purple emperor flies.
Great purple emperors are fairly valuable, with each one going for 3,000 Bells at Nook's Cranny. You can earn even more Bells for these critters if you sell them to Flick when he visits your island.
Also remember that you can donate three of these butterflies to Flick if you want him to create a model of the insect that you can display in your home or around your island.
To learn more about Animal Crossing: New Horizons, or to view the rest of our guides for the game, check out our previous coverage.
Disclosure: Nintendo gave SuperParent a code for Animal Crossing: New Horizons for coverage purposes.

Brandy Berthelson has been writing about video games and technology since 2006, with her work appearing on sites including AOL Games, Digital Spy, and Adweek. When she's not gaming, Brandy enjoys crafting, baking, and traveling with her husband.