You'll need to go diving to catch this huge bivalve.
In July, Animal Crossing: New Horizons received a swimming and diving update that added the ability for players to swim and dive in the waters around their islands. As part of this update, dozens of sea creatures were added to the game, which players can catch and donate to Blathers at the museum, display around their islands, and more. One of the largest sea creatures in the game is the gigas giant clam, which is about to disappear from islands in the Northern Hemisphere until next year!
Specifically, gigas giant clams will appear around islands in the Northern Hemisphere from May to September. According to AllGamers, they'll appear around islands in the Southern Hemisphere from November to March. A gigas giant clam can appear at any time of day.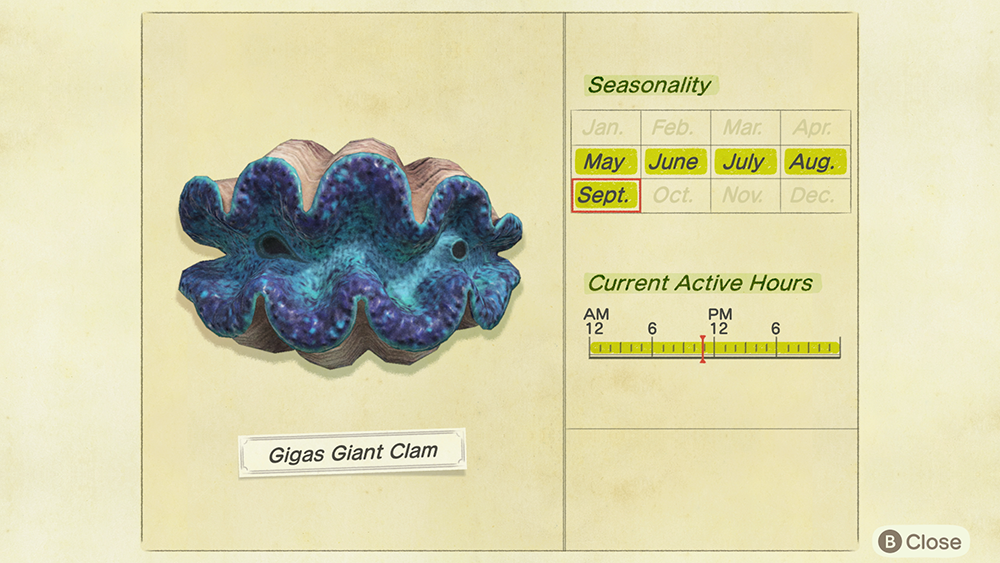 The gigas giant clam has a huge shadow, which you can see in our short gameplay clip below. If you're only interested in catching these creatures (rather than smaller ones), be on the lookout for these large shadows when you dive under the surface of the water!
A single gigas giant clam can be sold for 15,000 Bells at Nook's Cranny, or for even more if you sell it to CJ when he visits your island. Also remember that you'll need to donate one of these creatures to Blathers at the museum if you want to finish your sea creature collection.
In our experience, the gigas giant clam is a rare sea creature, and it may take you a while to catch one. That being the case, you may want to check out the ChargePlay Clutch from HyperX. It can extend your device's battery life so you can play New Horizons (and other Switch games) for a longer period of time before having to charge your Switch. Head over to HyperX's website to learn more about the ChargePlay Clutch and the company's other Switch accessories.
To learn more about Animal Crossing: New Horizons, or to view the rest of our guides for the game, check out our previous coverage.
Disclosure: Nintendo gave SuperParent a code for Animal Crossing: New Horizons for coverage purposes. In addition, HyperX is a sponsor of SuperParent.