This one comes out late at night.
In Animal Crossing: New Horizons, there are a couple of insects that will only appear late at night (or pretty early in the morning). One of these is the giant stag, and it's now available to catch on islands in the Northern Hemisphere.
Specifically, giant stags can appear on islands in the Northern Hemisphere from July to August. According to AllGamers, they'll appear on islands in the Southern Hemisphere from January to February. Giant stags can appear on the sides of trees at any time between 11 p.m. and 8 a.m.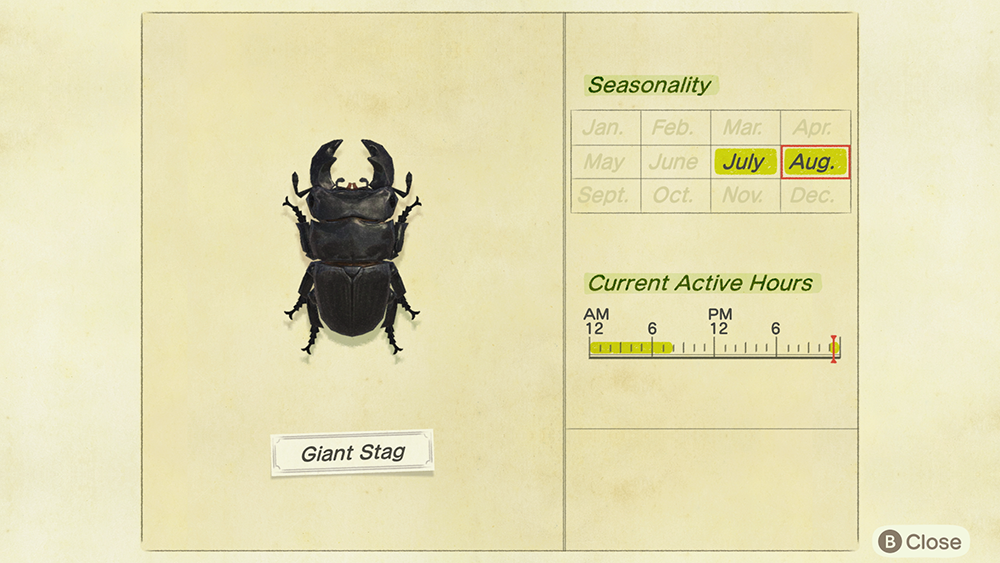 Giant stags look similar to insects like the miyama stag and saw stag. However, giant stags are slightly wider than those two bugs, and their horns are also thicker. Plus, the giant stag has a black body, while the saw stag and miyama stag are dark brown.
Even with these differences, it can still be tricky to identify a giant stag when it's hanging on the side of a tree (especially at night). Check out our gameplay clip below to see exactly what you're looking for.
Giant stags can be sold for a whopping 10,000 Bells each at Nook's Cranny. And remember, you can earn even more Bells for insects if you sell them to Flick when he visits your island. You can also trade three of a particular insect to Flick to have him create a model of the bug that you can display around your island.
Since the giant stag isn't very common, it may take you some time to track one down. That being the case, you may want to check out the ChargePlay Clutch from HyperX. It can extend your device's battery life so you can play New Horizons (and other Switch games) for a longer period of time before having to charge your Switch. Head over to HyperX's website to learn more about the ChargePlay Clutch and the company's other Switch accessories.
To learn more about Animal Crossing: New Horizons, or to view the rest of our guides for the game, check out our previous coverage.
Disclosure: Nintendo gave SuperParent a code for Animal Crossing: New Horizons for coverage purposes. In addition, HyperX is a sponsor of SuperParent.