Help your poor animal friends when they have these bugs!
While most insects in Animal Crossing: New Horizons can be found flying through the air, hanging on trees, or simply walking on the ground, fleas are unique, since you'll only be able to find them when they're bothering your animal friends.
Fleas can appear on islands in the Northern Hemisphere between April and November. According to AllGamers, players with islands in the Southern Hemisphere can encounter fleas between October and May. Fleas can appear on residents at any time of day.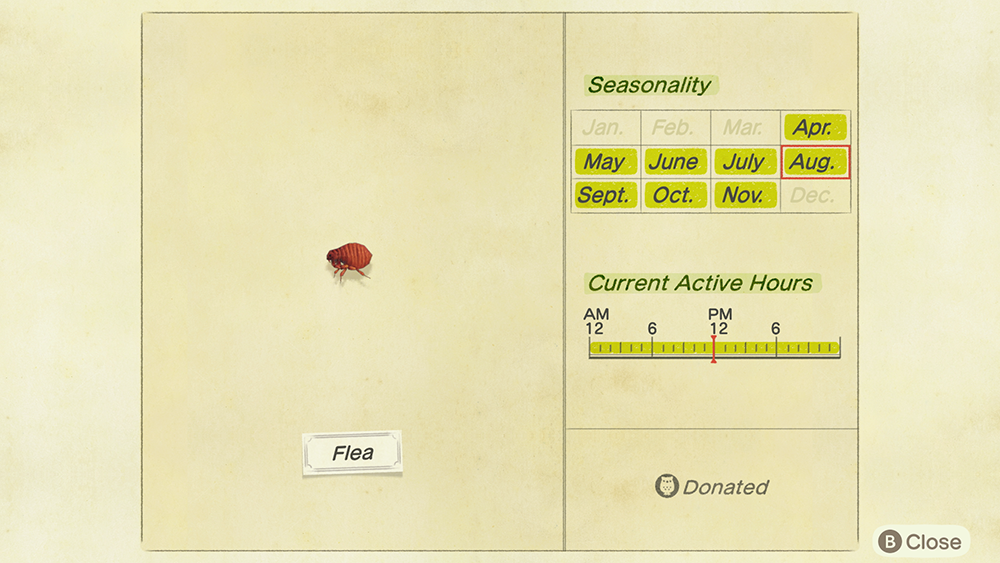 You'll know when one of your animal friends has a flea because you'll see it bouncing on them as they go about their life. In addition, when you talk to a friend who has a flea, they'll talk about being itchy.
To actually catch the flea, you'll need to swing your net at your animal friend. If you're too close to your friend when you swing your net, you may talk to them instead, so make sure you're far enough away when you're ready to swing (or press and hold "A" to ready your net before approaching them).
Check out our gameplay clip below to see what it looks like when an animal has a flea, and how to go about catching one.
As reported by AllGamers, fleas can be sold for only 70 Bells each at Nook's Cranny. While this is one of the least valuable insects in the game, it's still worth catching them, even if only to bring your poor animal friends some relief from their itching! (Plus, remember that you'll need to donate one to complete your museum collection.)
To learn more about Animal Crossing: New Horizons, or to view the rest of our guides for the game, check out our previous coverage.
Disclosure: Nintendo gave SuperParent a code for Animal Crossing: New Horizons for coverage purposes.