Is that snowball moving on its own?
It's winter on islands in the Northern Hemisphere in Animal Crossing: New Horizons, which means the ground is covered with snow and players can create Snowboys to receive a variety of Snowflake DIY recipes.
While it may be tempting to instantly roll snowballs into Snowboys to receive rewards, there's a good reason to wait: dung beetles.
Dung beetles are some of the most unique insects in New Horizons, since they'll appear next to snowballs and will actually push them around on the ground. If you immediately turn all of your snowballs into Snowboys, you'll miss the chance to find these insects!
According to AllGamers, dung beetles will appear from December to February on islands in the Northern Hemisphere, and from June to August on islands in the Southern Hemisphere. A dung beetle can appear next to a snowball at any time of day.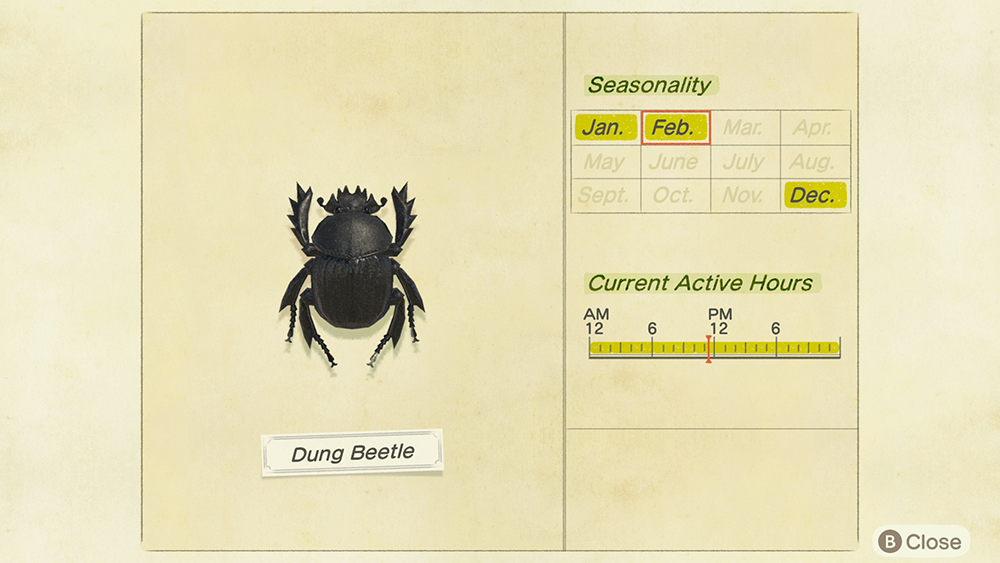 Check out our gameplay video below to see exactly what a dung beetle looks like as it pushes a snowball around on the ground.
A single dung beetle can be sold for 3,000 Bells at Nook's Cranny, or for more if you sell it to Flick when he's visiting your island. Also keep in mind that you'll need to donate one of these insects to Blathers if you want to complete your museum's insect collection.
In our experience, the dung beetle isn't very common, and it may take you a while to find one. That being the case, you may want to check out the ChargePlay Clutch from HyperX. It can extend your device's battery life so you can play New Horizons (and other Switch games) for a longer period of time before having to charge your Switch. Head over to HyperX's website to learn more about the ChargePlay Clutch and the company's other Switch accessories.
To learn more about Animal Crossing: New Horizons, or to view the rest of our guides for the game, check out our previous coverage.
Disclosure: Nintendo gave SuperParent a code for Animal Crossing: New Horizons for coverage purposes. In addition, HyperX is a sponsor of SuperParent.