Here's everything you need to know about this large river fish.
Rivers in Animal Crossing: New Horizons are home to lots of different creatures, from the tiny guppy to the huge arapaima. One of the game's many river fish even shines like a bar of gold!
The dorado is a large, gold fish that can be found on islands in the Northern Hemisphere from June to September. According to our friends at All Gamers, it will appear in the Southern Hemisphere from December to March. The fish can appear at any time between 4 a.m. and 9 p.m.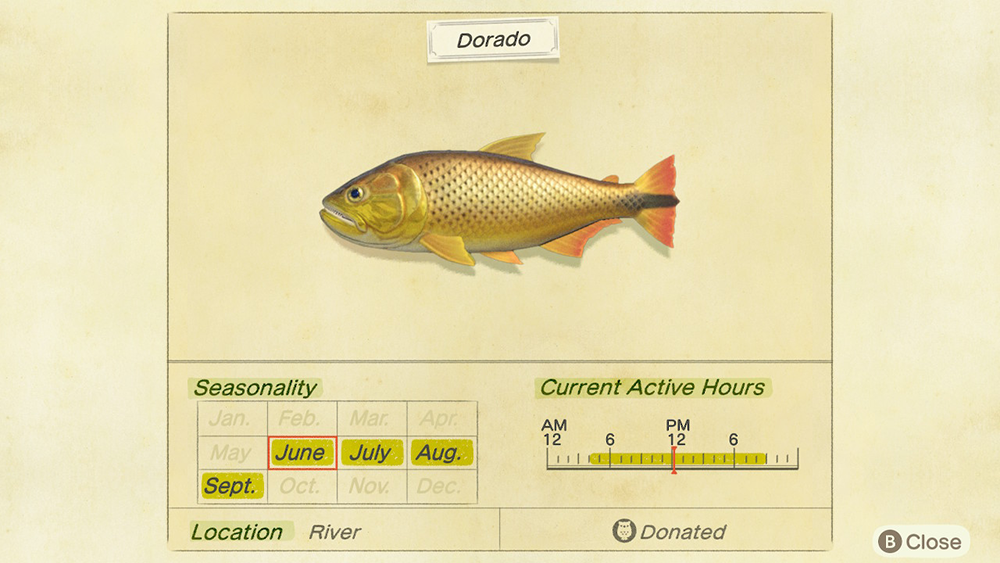 A dorado has a relatively large shadow in the water. Check out our short gameplay clip below to see exactly what the shadow looks like. That way, you'll know what to look for when you're ready to track down one of these shiny fish in your own game.
To speed up your hunt, remember that you can toss Fish Bait into the river to cause fish to instantly spawn in front of your character. Unfortunately, the fish that spawn will be random, but if you have lots of bait to spare (or lots of river fish to add to your collection), this is a great way to hunt for dorado without being required to walk all over your island.
Also keep in mind that fish spawn really frequently, and in close proximity to one another, on the game's mystery islands. If you have the 2,000 Nook Miles to spend on a Nook Miles Ticket, consider taking a trip to one of these islands to see what you can find.
Finally, if you want to sell a dorado to earn some extra Bells, you'll receive 15,000 Bells when selling this fish at Nook's Cranny.
To learn more about Animal Crossing: New Horizons, or to view the rest of our guides for the game, check out our previous coverage.
Disclosure: Nintendo gave SuperParent a code for Animal Crossing: New Horizons for coverage purposes.