Here's when and where you can catch this insect!
There are quite a few beetles to collect and donate in Animal Crossing: New Horizons, including the citrus long-horned beetle. Here's everything you need to know about this insect!
The citrus long-horned beetle is a pretty unique insect in New Horizons. According to our friends at All Gamers, the insect can appear during every month of the year – and at any time of day – on islands in both the Northern and Southern Hemispheres.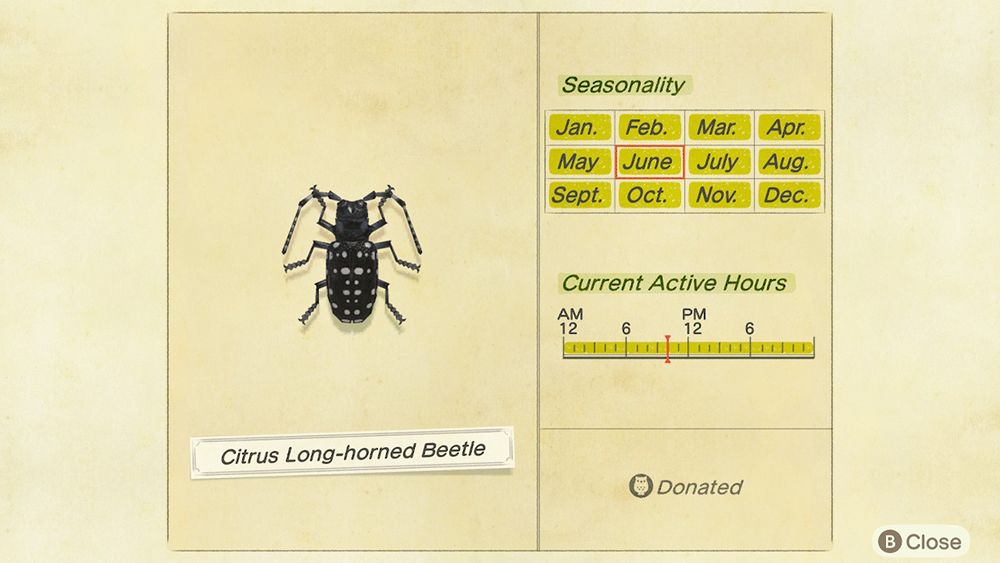 Like the rosalia batesi beetle and the violin beetle, the citrus long-horned beetle will only appear on tree stumps that you've left behind after chopping down trees with an axe. If you want to improve the chances of one of these insects appearing, create more than one stump around your island so there are multiple places for them to show up.
Once a citrus long-horned beetle appears, remember that you can improve your chances of actually catching it by holding down the "A" button on your controller to slowly approach it. When you release the "A" button, your character will automatically swing the net in the direction they're facing.
Check out our short gameplay clip below to see how this works.
Citrus long-horned beetles aren't terribly valuable. You can sell them for 350 Bells each at Nook's Cranny, or for a bit more if you sell them to Flick instead.
To learn more about Animal Crossing: New Horizons, or to view the rest of our guides for the game, check out our previous coverage.
Disclosure: Nintendo gave SuperParent a code for Animal Crossing: New Horizons for coverage purposes.

Brandy Berthelson has been writing about video games and technology since 2006, with her work appearing on sites including AOL Games, Digital Spy, and Adweek. When she's not gaming, Brandy enjoys crafting, baking, and traveling with her husband.