This unique item counts as an insect in your museum's collection.
Animal Crossing: New Horizons has a wide variety of "normal" bugs and fish to catch and donate to the museum, from butterflies and beetles to sea bass and sharks. The game also contains a few "unique" critters that don't really fit into the regular bug and fish categories, but still count as part of those collections.
One of these is the cicada shell, which you can find hanging on the sides of trees. The cicada shell isn't actually an insect — it's the shell that a cicada has left behind. Even though the cicada shell isn't a living bug, it still counts as a regular insect in the game's bug collection.
Here's everything you need to know about finding and "catching" a cicada shell in Animal Crossing: New Horizons!
The cicada shell can appear on islands in the Northern Hemisphere from July to August. According to AllGamers, it can appear on islands in the Southern Hemisphere from January to February. Cicada shells can appear at any time of day.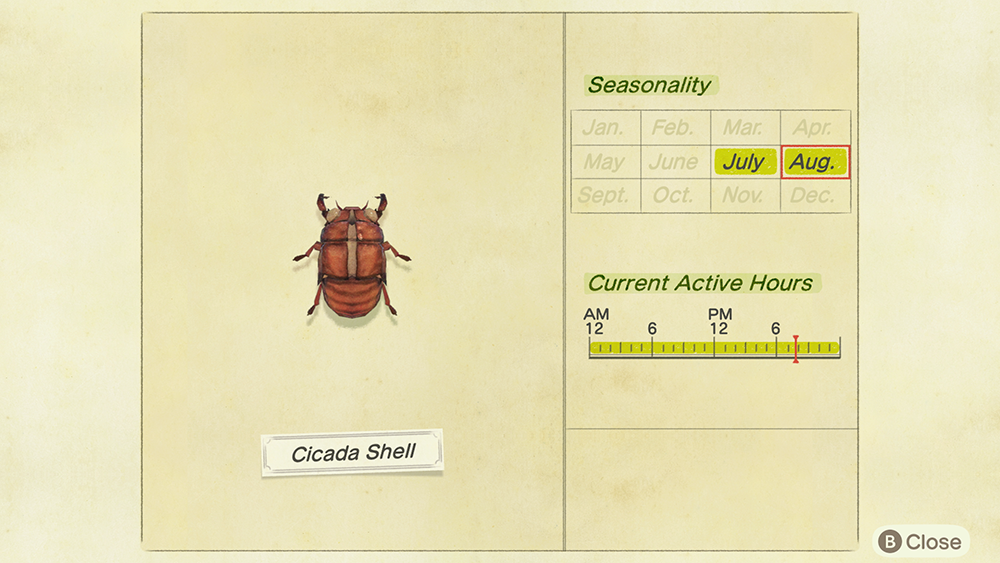 In our experience, the cicada shell is a relatively rare "insect." You may find it easier to encounter one if you use a Nook Miles Ticket to travel to a mystery island. Since these islands are relatively small (compared to your home island), they allow you to quickly encounter lots of different insects without having to run around your full island over and over again.
Check out our gameplay clip below to see what a cicada shell looks like when it's hanging on the side of a tree.
A cicada shell can be sold for just 10 Bells at Nook's Cranny. While it's one of the least valuable "insects" in the game, you'll still need to catch at least one to fill in its spot in your museum collection.
Since the cicada shell is so rare, it may take you a while to track one down. That being the case, check out the ChargePlay Clutch from HyperX. It can extend your device's battery life so you can play New Horizons (and other Switch games) for a longer period of time before having to charge your Switch. Head over to HyperX's website to learn more about the ChargePlay Clutch and the company's other Switch accessories.
To learn more about Animal Crossing: New Horizons, or to view the rest of our guides for the game, check out our previous coverage.
Disclosure: Nintendo gave SuperParent a code for Animal Crossing: New Horizons for coverage purposes. In addition, HyperX is a sponsor of SuperParent.