Design vacation homes for animal friends!
Nintendo has released the Happy Home Paradise downloadable content (DLC) for Animal Crossing: New Horizons!
This DLC allows players to become the newest member of Lottie's Paradise Planning team and visit a chain of islands where they can design vacation homes for animal clients.
Each client will want a vacation home with a particular design, and they'll have a few mandatory items that must be included in the space. For instance, Eloise may want a space to read books, and she'll request that a rocking chair and some book-themed items are included in the design. Once players add the mandatory items to a client's vacation home, they can decorate the rest of the space with any items they'd like.
Rather than using their own inventory items to decorate vacation homes, players can pull items from the Paradise Planning catalog, and they can instantly customize the look of many items (for instance, choosing a different paint color or fabric) before and after placing them in the space.
As players complete jobs for clients, they'll unlock additional abilities and ways to customize each vacation home. For instance, players will be able to choose where to place a home from a series of islands that have different settings, like a rocky outcropping or a sandy beach (as examples). Players can also change the time of day, weather, and season for an island, and these settings will remain set, rather than using the game's real-time clock.
Elsewhere, players can decorate the yard/outdoor space for each island (including planting flowers and trees), change the home's exterior design, increase the dimensions of a vacation home to give themselves more space to work with, add elements like partition walls and lighting effects to a space, and more.
As players learn about certain techniques in the DLC (like adding partition walls to a space), they'll also unlock the ability to use these techniques in their home on their own island.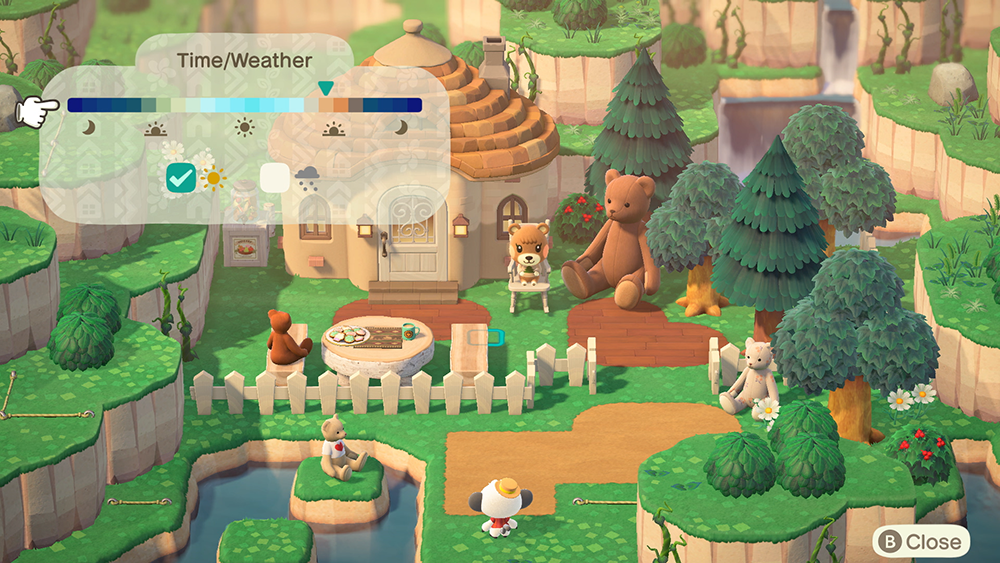 In addition to designing vacation homes, players will also be asked to design facilities like a school and restaurant.
As players complete tasks in the Happy Home Paradise DLC, they'll receive a new currency called Poki, which can only be spent in this DLC. Poki can be spent on exclusive furniture and other items in the Paradise Planning office, which players can take with them back to their home island.
Finally, players can revisit vacation homes that they've previously designed and update them if they'd like.
The Happy Home Paradise DLC is now available in the Nintendo eShop for $24.99. It's also included at no additional cost for subscribers to the Nintendo Switch Online + Expansion Pack plan. You can learn more about the Nintendo Switch Online + Expansion Pack subscription plan in our previous coverage.
Disclosure: SuperParent received codes for Animal Crossing: New Horizons and the Nintendo Switch Online + Expansion Pack subscription for coverage purposes.