Here's how to visit another player's island while you're fast asleep.
Wave 2 of the major Summer Update for Animal Crossing: New Horizons is here! The update adds multiple new features to the game, including dreaming. This dreaming feature allows you to visit other players' islands in dreams, and invite players to visit your own island while they dream.
When you're in a dream, your inventory will be completely empty and none of your "progress" is saved on the other player's island. This means you don't have to worry about dream visitors picking all of your flowers (or worse).
Here's everything you need to know about this dreaming feature!
When you first update the game to the latest version, you'll receive a letter from Luna in the mail. Luna is a friendly tapir who will guide you through dreams. The letter contains a free present: Luna's bed. However, you can sleep in any bed in your own home to begin dreaming.
When you want to start dreaming, lie down in any bed in your house and choose "Yeah, I want to sleep…"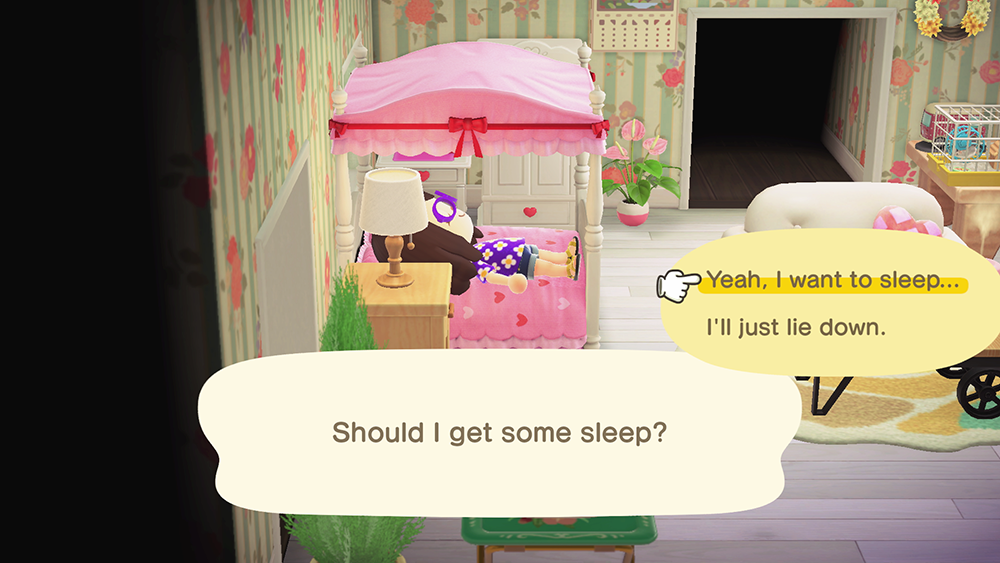 Your character will drift off to sleep and you'll meet Luna. If you want to visit someone else's island in a dream, choose "I want to dream." If you want to share your own island for other players to visit in a dream, choose "I'd like to share a dream."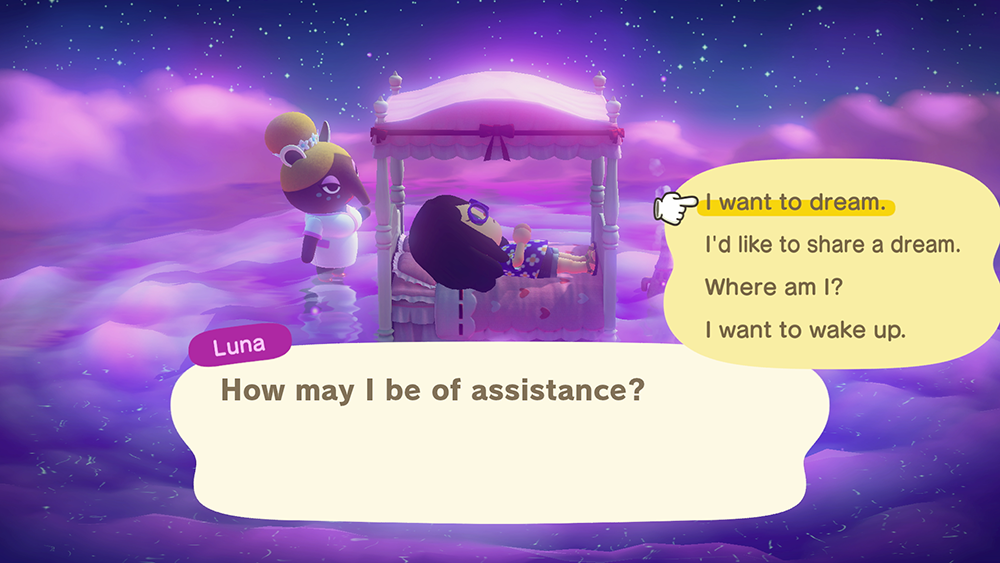 Visiting Another Player's Island
If you choose "I want to dream," you'll need to connect to the internet and then enter the Dream Address for the island you want to visit. This means you'll need to collect a Dream Address from another player who has chosen to share their island through dreams. If none of your friends have shared their Dream Address with you, you can easily find hundreds of Dream Addresses online (for instance, try searching for "Dream Address" on Twitter).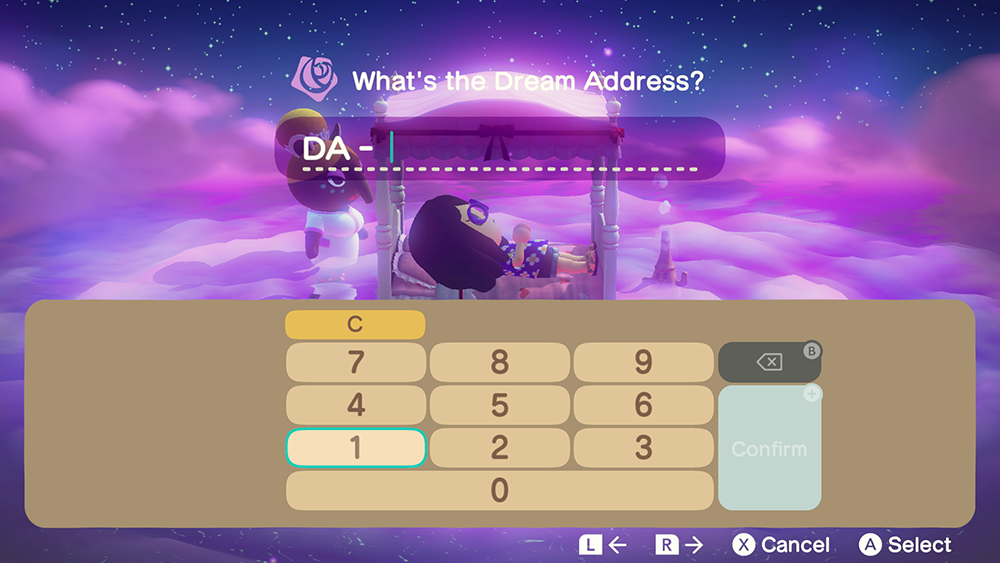 When you arrive on another player's island in a dream, your bed will appear in the player's plaza and you can get up and explore the island just like you were really there. You can visit animals' houses and talk to them (if they're home), as well as talk to animals who are walking around. Buildings like Nook's Cranny and Resident Services will be unavailable, but you can visit the player's house, as well as their Museum to see all of the fish, insects, and more they have donated.
Plus, you can view the island's Custom Designs Portal and save any design that's on display there.
When you're ready to leave the dream, lie back down on your bed in the plaza and choose "I want to wake up!"
Sharing Your Own Island
If you choose "I'd like to share a dream," you'll be shown some warning information about this feature. Specifically, you're reminded that if you share your Dream Address, certain things about your island will be made public, and people you don't know may be able to visit your island (depending on where you share your Dream Address). If you want to continue, select "I Understand."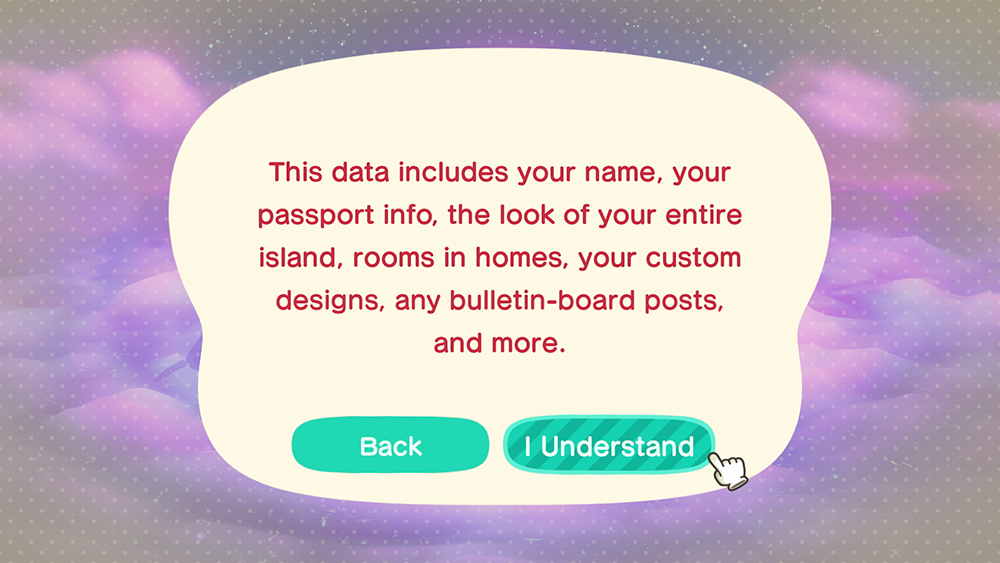 If you agree to the terms, Luna will upload the current version of your island to the Dream Library for other players to visit, and you'll receive your Dream Address that you can share with other players. By default, your Dream Address will also be added to your in-game passport and map, but you can ask Luna to remove it from these areas if you wish.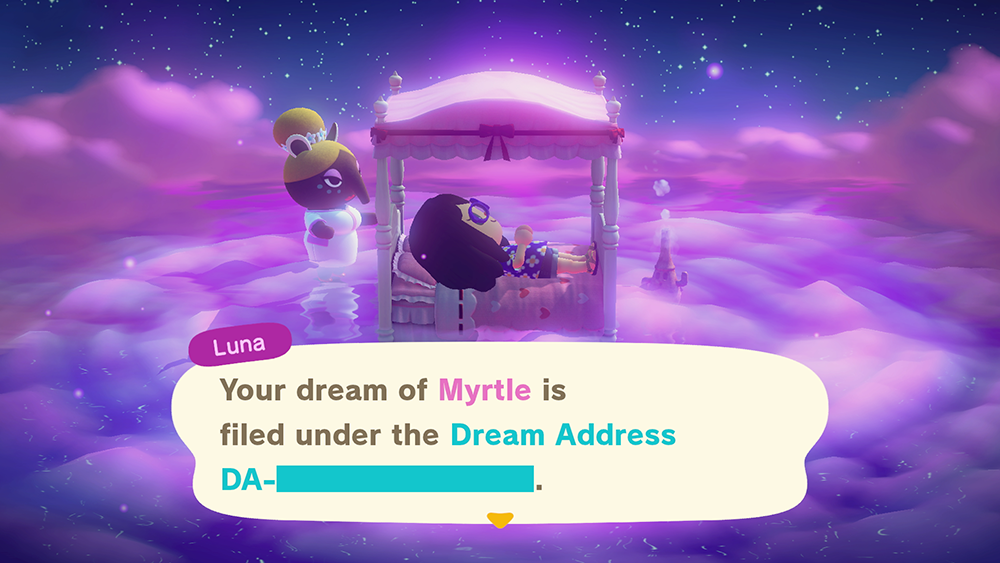 Keep in mind that any changes you make to your island after you upload it to the Dream Library won't be synced over automatically. If you want to update the version of your island that players can visit in dreams, you can talk to Luna to do so once per day (select "Update the dream").
Finally, visitors to your island will be able to save any design that you have on your Custom Designs portal.
To learn more about Animal Crossing: New Horizons, or to view the rest of our guides for the game, check out our previous coverage.
Disclosure: Nintendo gave SuperParent a code for Animal Crossing: New Horizons for coverage purposes.