Here's how to collect these new romantic items!
Wedding Season has officially kicked off for another year in Animal Crossing: New Horizons!
Wedding Season runs from June 1 to June 30 each year. In 2020, the Wedding Season event asked players to travel to Harvey's island and take some anniversary photos of Cyrus and Reese in order to earn lots of wedding-themed decorations and items they could use to decorate their own home and island.
For 2021, players can take more pictures of Cyrus and Reese during the Wedding Season event, as well as pick up some new items from the Nook Shopping catalog. (If you want to learn more about taking photos for Cyrus and Reese, check out our guide.)
During the 2021 Wedding Season event, players can purchase four new items from the Seasonal items tab in the Nook Shopping catalog:
Nuptial Bell – 4,500 Bells
Nuptial Ring Pillow – 2,200 Bells
Nuptial Doorplate – 1,400 Bells
Flower-Petal Basket – 1,200 Bells
According to Nookazon's Animal Crossing: New Horizons item database, the three Nuptial items come in multiple colors. For instance, the Nuptial Bell can be blue, brown, or white, while the Nuptial Doorplate can be entirely blue, blue and white, or red and white. The inside of the Doorplate says "Welcome" in one of three different fonts, meaning there are technically nine different versions of this item available to collect. Finally, the Nuptial Ring Pillow can be blue, white, or red and white.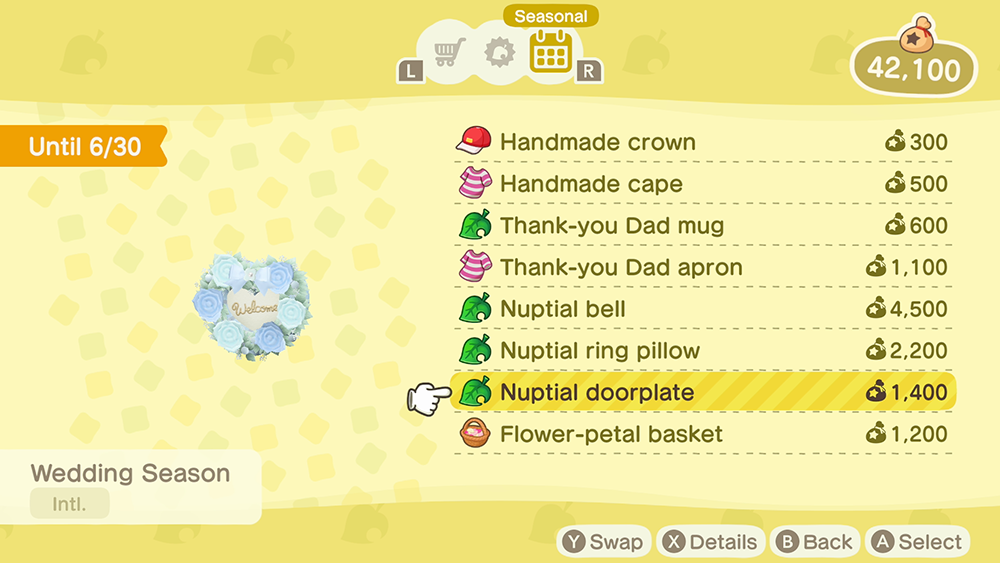 These Wedding Season items will be available to purchase until June 30. Make sure to buy as many as you think you'll need or want now before they go away!
To learn more about Animal Crossing: New Horizons, or to view our guides for the game, check out our previous coverage.
Disclosure: Nintendo gave SuperParent a code for Animal Crossing: New Horizons for coverage purposes.