These items will be available for a limited time.
Animal Crossing: New Horizons is celebrating the holiday of Obon with two limited-edition items that will be available to purchase in the Nook Shopping catalog for a limited time: the Eggplant Cow and Cucumber Horse.
The Nook Shopping catalog has a few details about Obon:
"Celebrated mainly in Japan, it is said that ancestral spirits will visit the living beginning on August 13, arriving on creatures made from cucumber and eggplant before departing once more on the 16th."
The Cucumber Horse and Eggplant Cow items will appear on the Seasonal tab of the Nook Shopping catalog from now until August 16, 2021. According to Animal Crossing World, only one of the two items will be available each day, and they'll switch back and forth throughout this time. For instance, if your game has the Cucumber Horse available on August 10, the Eggplant Cow will be for sale on August 11, the Cucumber Horse will go back on sale on August 12, and so on.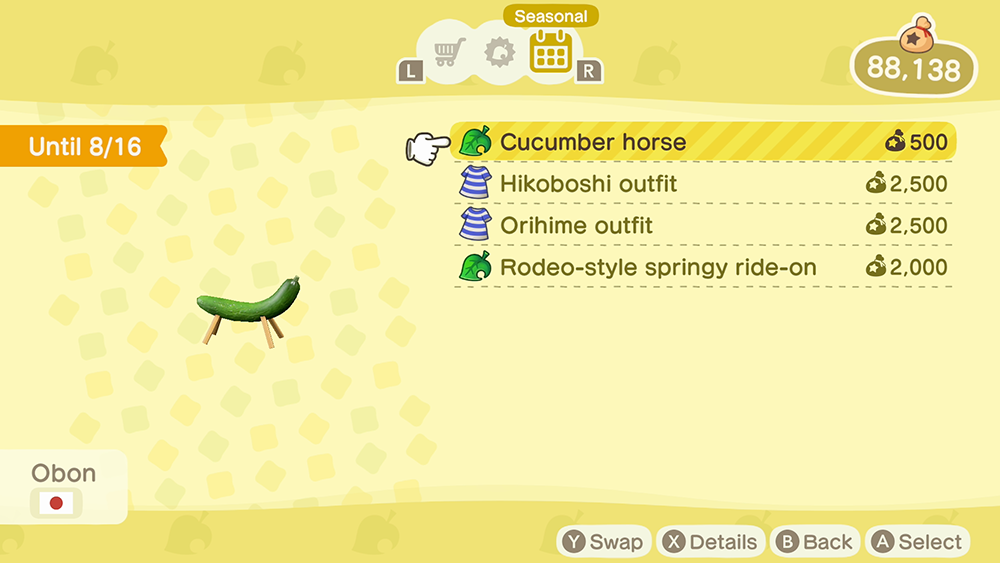 As reported by Animal Crossing World, the Cucumber Horse and Eggplant Cow items cost 500 Bells each.
To learn more about Animal Crossing: New Horizons, or to view our guides for the game, check out our previous coverage.

Brandy Berthelson has been writing about video games and technology since 2006, with her work appearing on sites including AOL Games, Digital Spy, and Adweek. When she's not gaming, Brandy enjoys crafting, baking, and traveling with her husband.