They'll be gone before you know it!
In 2020, Animal Crossing: New Horizons celebrated Moon-Viewing Day with the release of a limited edition Moon Rug, which was only available to purchase for a limited time.
For 2021, the Moon Rug has returned to New Horizons, and it's available alongside two other items associated with the holiday.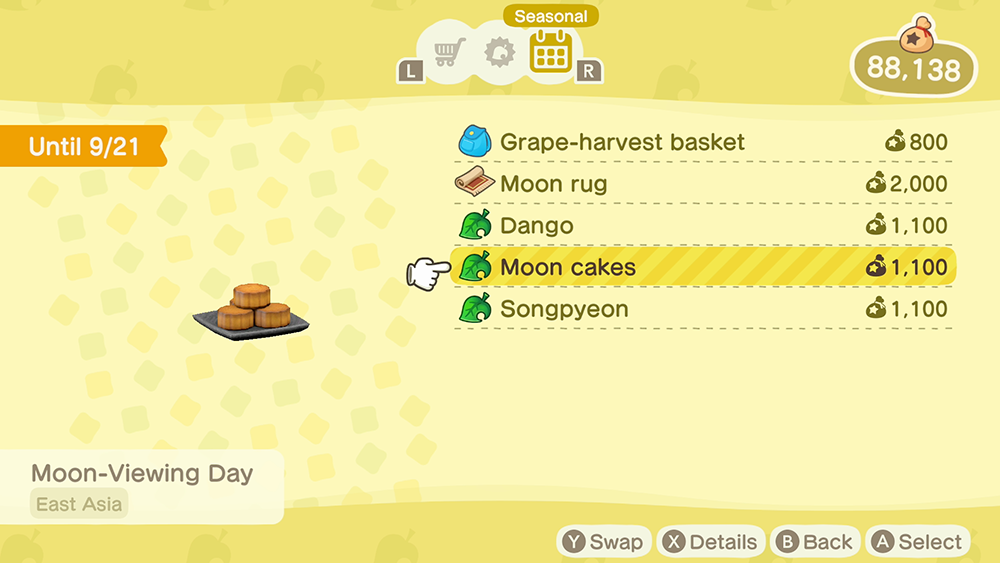 The game's Moon-Viewing Day items can be purchased from the Seasonal tab of the Nook Shopping catalog. The Moon Rug costs 2,000 Bells, the Dango costs 1,100 Bells, and the Moon Cakes costs 1,100 Bells.
The details screen for the Moon Cakes reads:
"Celebrated in parts of Asia, the 15th night on the 8th month-according to the lunisolar calendar-has a harvest moon. This is when the full moon is perfectly situated for observation. How about some moon cakes?"
All three of these items will be available to purchase until September 21, 2021.
Did you add the Moon Rug to your collection in 2020, or will you pick one up this year for the first time? Let us know on Twitter at @superparenthq.

Brandy Berthelson has been writing about video games and technology since 2006, with her work appearing on sites including AOL Games, Digital Spy, and Adweek. When she's not gaming, Brandy enjoys crafting, baking, and traveling with her husband.