Complete the maze with our handy video walkthrough!
In 2020, Animal Crossing: New Horizons celebrated May Day by giving players a free plane ticket they could use to travel to a special mystery island. This island had a hedge maze for players to navigate, and at the end, they would meet a very special character from the Animal Crossing series: Rover!
For 2021, the May Day event has come back again, but with some changes to the hedge maze. Here's everything you need to know about the 2021 May Day event!
The 2021 May Day event will run from April 29 to May 7. The first time you login to New Horizons during this time period, Isabelle will tell you about the festivities during her announcements.
To start this event, head to the airport and talk to Orville. He'll tell you that you can use a free May Day ticket to travel to a special Mystery Island. You can only travel to this island once between April 29 and May 7.
When you're ready to travel, tell Orville you want to use the May Day Ticket. You can't take any items to the island with you, so any items in your inventory will be stored at the airport when you leave.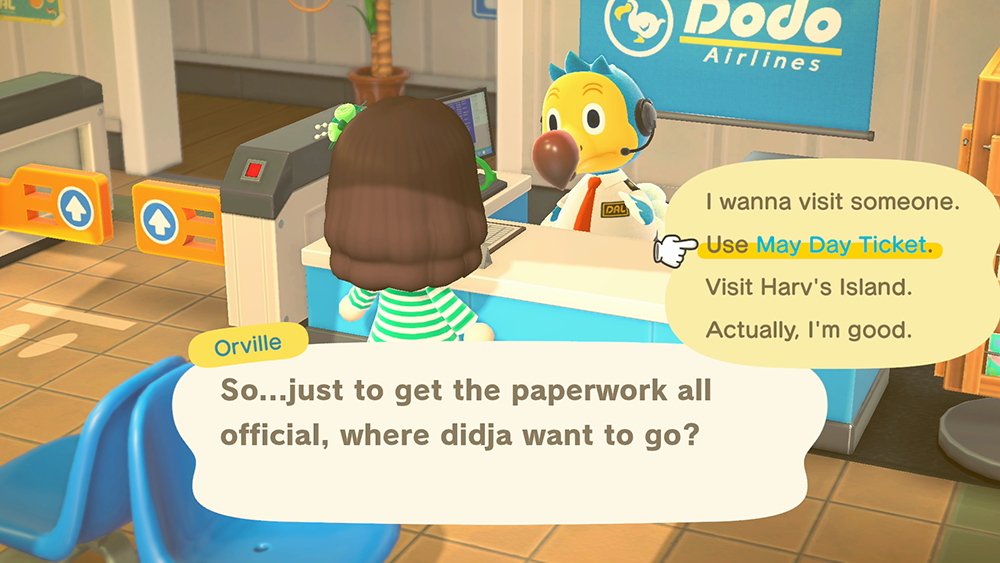 Once you arrive at the May Day island, you'll need to complete the hedge maze using a limited supply of tools and items. It is possible to get stuck if you complete actions in the wrong order. If this happens, open your NookPhone and use the Rescue Service app to reset the maze so you can try again. Keep in mind this service costs 100 Nook Miles to use.
When you make it to the end of the maze, you can chat with Rover. According to Animal Crossing World, if you didn't complete the 2020 May Day event in New Horizons, you'll receive Rover's Briefcase as your prize. If you did complete last year's event, Animal Crossing World said you'll receive Rover's Photo in the mail the next day.
Before you leave the May Day island, make sure to use your leftover resources to collect the nine Bell Vouchers that are hidden around the maze! These will be delivered to your mailbox, and you can sell them at Nook's Cranny for 3,000 Bells each (27,000 Bells if you collect all nine).
While you can try the maze as many times as you need until you complete it, you can also check out our complete video walkthrough above to make it through the entire maze (and collect all of the Bell Vouchers) on your first try.
To learn more about Animal Crossing: New Horizons, or to view the rest of our guides for the game, check out our previous coverage.
Disclosure: SuperParent received a code for Animal Crossing: New Horizons for coverage purposes.