The service used to require a monthly subscription.
In 2016, Amazon launched Amazon Rapids, a reading app for kids 5-12 that lets little ones read hundreds of original short stories presented one message and/or picture at a time like a text message conversation. The app originally charged a monthly subscription price of $2.99, but as Cool Mom Tech spotted, Amazon Rapids is now free.
Parents need to sign in to the app (on iOS, Android, or Amazon) using their Amazon account, and from there they can create a profile for each child to personalize their in-app experience.
Kids can browse stories split into different topics or themes, like "Animals" and "Fairy Tales," or search for stories manually. For each story, kids can choose to read on their own, or read along with the app's voiceovers. Kids can also tap on a word to hear its pronunciation, or tap and hold on a word to view its definition. Finally, kids can add stories they love to their "Favorites" list.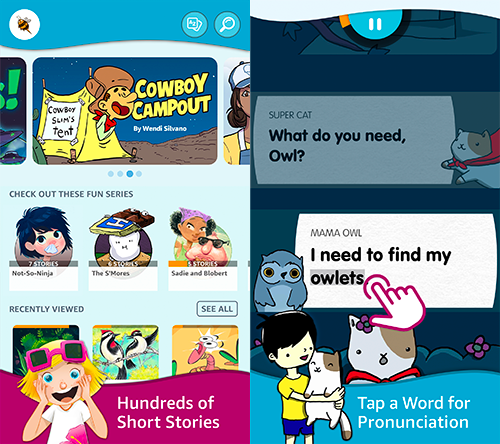 Parents can visit the app's Parent Dashboard to view each child's favorite genre, the number of words they've read, and the number of words they've looked up in the app's dictionary. As their children finish stories, the app will give parents short summaries that they can use to talk with their kids about what they've read.
Amazon Rapids is one of many storybook apps on mobile devices, but the fact that it's now free makes it stand out much more from its competitors. For instance, Disney Story Central costs $7.99 per month for unlimited access to its story catalog, while Amazon's own Freetime Unlimited costs $2.99 per month for Amazon Prime members for a single child. The price for Prime members goes up to $6.99 per month for a family account supporting up to four kids.
The Amazon Rapids mobile app is available on iOS, Android, and Amazon devices in the U.S.