The app lets kids view Dr. Seuss' characters as though they're in the real world in front of them.
Update (03/10/20): The developer of Dr. Seuss's An Amazing AR Alphabet, Sugar Creative, told SuperParent it has updated the app to make it easier to see each letter's tracing patterns against the story book and light surfaces. We tested the update and can confirm it is easier now.
---
Original Story:
Dr. Seuss Enterprises released Dr. Seuss's An Amazing AR Alphabet, an augmented reality (AR) mobile app that was designed to teach littles the alphabet as they interact with different Dr. Seuss characters.
The app has multiple modes to choose from, which give kids different ways to play.
First, a Story mode guides kids through an AR story book that features a different letter of the alphabet on each page. The app uses the device's camera to make it look like the book is in the real world in front of kids. You can choose where to place the book, as well as resize it to make it smaller or larger, and then rotate it within the space before playing.
For each letter, kids are asked to trace the uppercase and lowercase versions of the letter by dragging their finger across the screen. From there, one or more Dr. Seuss characters that have names that begin with that letter will appear on the screen through augmented reality so they also look like they're really in front of kids. For instance, for the letter "A," kids will see Aunt Annie's Alligator appear on the screen.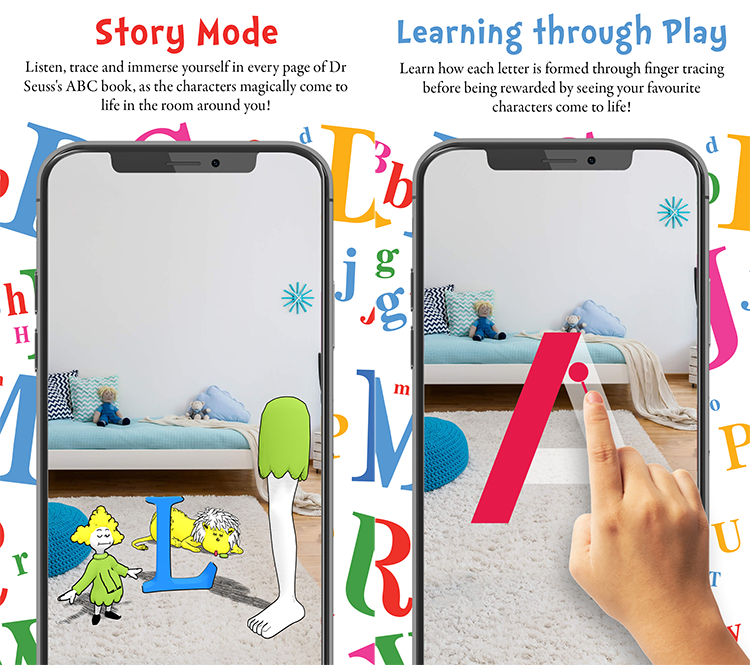 A second mode, A to Z, lets kids pick a letter to jump to within the book, so they don't have to start over from the beginning each time they want to play.
Finally, a Sandbox mode lets kids interact with the app's Dr. Seuss characters through AR without focusing on the story book or learning portion of the app. Kids can have multiple characters on the screen at the same time and tap them to trigger various animations.
We had a chance to try Dr. Seuss's An Amazing AR Alphabet (though not with a child), and we enjoyed the game's AR functionality. However, we recommend playing near a dark surface (for instance, on top of dark-colored carpet), as it can be difficult to see the tracing pattern for each letter against the story book (which has a white background) or other light surfaces.
Dr. Seuss's An Amazing AR Alphabet is available to download for $3.99 on iOS and Android devices. The app is rated 4+ on iOS and E for Everyone on Android.
Disclosure: SuperParent received a code to try Dr. Seuss's An Amazing AR Alphabet for coverage purposes.