These are some of the most popular, and most fun, games kids are playing today.
These are the games that we've previously featured in our Top 10 list. There's no denying that any of the below games are still good, we just needed to make room for newer titles. These are still great options for kids and teens!
NBA 2K Series
Rated E10+ for Everyone 10+
Available On: Switch, Playstation 4, Xbox One, PC
This continually best-selling series also happens to be a gorgeous, fun, and deep simulation of NBA basketball. NBA 2K features every current team, player, and coach, along with a host of NBA legends. Over the years, the franchise has added story modes, the WNBA, and a whole online world that lets you hang out with others. Even a full-fledged esports league has sprouted up around the NBA 2K franchise.
PARENT'S NOTE: One thing to keep in mind for your kids is that there is an aggressive in-game purchase system in place in NBA 2K. Between stat boosting, clothing, accessories, and more, you could quickly feel the wallet drain. If you do plan to buy this game, make sure to toggle off in-game purchases through your system's software.
Appropriate For: 10 and up. The controls can be tricky and some content in the single-player Story mode touches on adult themes.
Roblox
Rated E10+ for Everyone 10+
Available On: Xbox One, PC, Mac, iOS, Android, Amazon
What if one of your kids loves playing games and the other enjoys making them? Enter Roblox. It's somewhere in between Lego and Minecraft, a massively-multiplayer online game that lets players build (and play) their own games. Kids with a penchant for programming will love it, as will tech-savvy parents thrilled to see their little ones code. It's prone to toxic online behavior, however, and while Roblox does a good job keeping servers clean, it's a persistent problem.
Appropriate For: 8 and up, provided you keep close tabs on the games they're playing (and creating).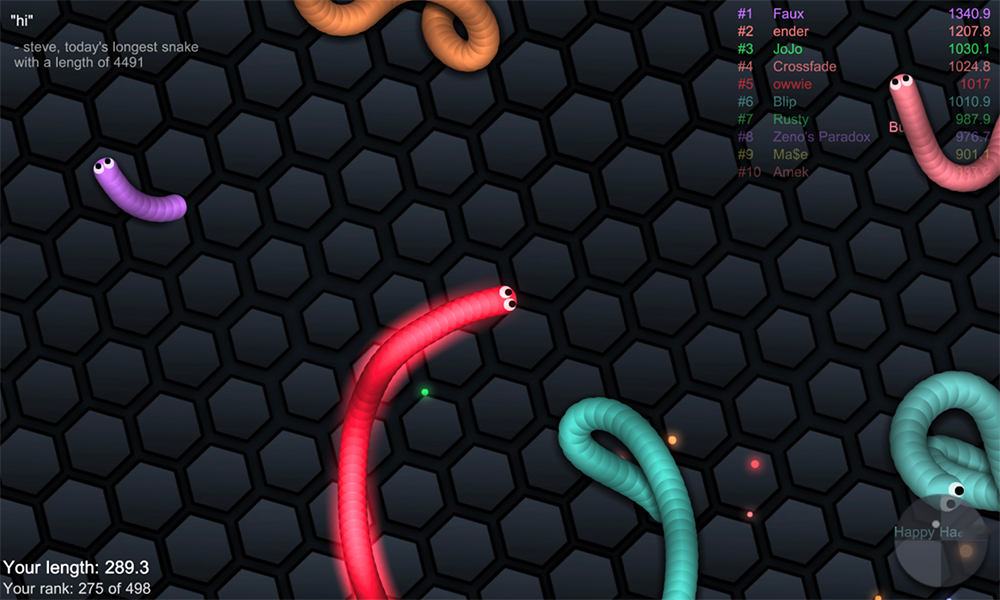 Slither.io
Rated 4+ on iOS, E for Everyone on Android, "Guidance Suggested" on Amazon, not rated on PC/Mac
Available On: PC, Mac, iOS, Android, Amazon
The most popular of the ubiquitous .io games, Slither.io is incredibly simple: players try to grow a snake by gobbling up colorful orbs and dodging bigger snakes. It's also harmless fun. Players can't communicate at all, and the straightforward goal of becoming the biggest serpent on the block is easy for younger minds to grasp. Tearing them away from their massive snake for dinner? Way less easy.
Appropriate For: 7 and up. The game itself is free-to-play, but it tends to show pretty racy advertisements and pushes players to pay to get rid of them.
Subway Surfers
Rated 9+ on iOS, E10+ for Everyone 10+ on Android, "Guidance Suggested" on Amazon
Available On: iOS, Android, Amazon
Over 2 billion downloads have turned this slick endless runner into one of the biggest mobile games of all time. Players guide a graffiti artist down subway tracks as they outrun the authorities, dodging trains, collecting coins, and even hopping on hoverboards. While it's free-to-play, it can quickly suck up funds via loads of optional upgrades (to be fair, the Teleporter board is pretty awesome).
Appropriate For: 6 and up, but be sure to vigilantly monitor those microtransactions!
Super Mario Odyssey
Rated E10+ for Everyone 10+
Available On: Switch
The portly plumber is back in yet another outstanding action adventure. In addition to Mario staples like coin-collecting and Goomba squashing, Odyssey introduces a clever new mechanic in a talkative magical hat that lets players control enemies. A cooperative mode lets one player control the hat, too — a perfect recipe for parent-child couch bonding. For more information, head over to our review.
Appropriate For: 7 and up. The 3D controls are complicated, and some of the game's large boss creatures, such as a huge dragon, can be a little scary.
The Legend of Zelda: Breath of the Wild
Rated E10+ for Everyone 10+
Available On: Switch
Nintendo struck gold with the handheld/console hybrid Nintendo Switch game system, and much of that is due to Breath of the Wild. This open-world take on the long-running Nintendo franchise lets players explore a sprawling fantasy world at their own pace. Though the combat and creatures can get a little intense for the wee ones, it's still family-friendly Nintendo fare (no blood, no gore). If there's a Switch in the house, the kids are playing Zelda on it.
Appropriate For: 8 and up. Younger kids will love the look and feel, but might be scared by some of the game's larger creatures. The controls are also fairly complex.
---
Do you have a favorite kid-friendly game we should include? Let us know in the comments section below, or tweet us at @superparenthq.
Editor's Note: The original version of this guide was written by Ben Silverman.